Graphic Design: Student Finds a Unique Voice at Berkeley College
Tonya Johsnon
14 January 2019
Lucille Navarro is exploring exactly what it means to be a true artist through her classes at Berkeley College. As a Bachelor's degree candidate majoring in the crowded job market of Graphic Design, she understands the importance of thinking outside of the box.
Inspiring assignments bring out creativity
Now in her third semester, Lucille has already learned to design, layer, and animate a train model. One of her favorite projects in Graphic Design Principles 1 was when she created a hodgepodge art piece centered on the quote - "The soul never thinks without an image," by Aristotle. To complete the assignment, she grabbed some leaves from the ground, flowers from Michaels, and designed a rib cage from the computer to print and cut out to attach to the flowers. She enjoyed the creative freedom, and found a way to incorporate her favorite color – red.
The pursuit of her passion
She used to hate the classroom art critique sessions amongst her professors and classmates. Now she loves it! "It has made me become even more passionate about my art, and I've gained so many tips that have helped me move forward in a different direction," Lucille said. "It's fun to collaborate with my classmates and bounce ideas off of one another."
Creative difference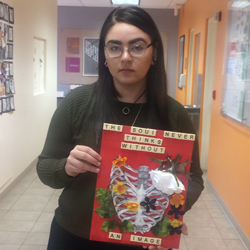 When her peers from Drawing 1 were handing in colorful, bright sketches of a "figure in a landscape" - for their final class project, she used charcoal neutrals to depict a nun occupying an abandoned building.
"When it comes to creativity, I'd rather go outside and look around for materials. It's a money saver and always easy to find things up for grabs," she explained. "I really like working with charcoal, and ink is becoming another favorite."
Convenience, combined with fate
The first-year transfer student from Lincoln Park, NJ, discovered Berkeley College through a Facebook ad, but her aunt, who was attending one of the school's Nursing programs at the time, also recommended that she check it out. "I heard a lot of good things about Berkeley," Lucille said. The Woodland Park campus is a convenient 10-minute drive away from her house, and it was the only campus location that offered on-site classes for the Graphic Design program.
As a kid, she was always doodling. "I chose Graphic Design because I love art. If I can make my art come to life through design on a t-shirt for everybody to have, that would be amazing!"
Confidence is critical
With a 2021 anticipated graduation date, Lucille looks forward to gaining further knowledge in the software programs Autodesk Maya and Adobe Illustrator. She reported that some employers are requiring job seekers to have at least three years of experience with each. "In the beginning, I wasn't feeling that confident in my artistic abilities, but my professor pulled me aside and encouraged me to take a closer look at my drawings and realize my truest potential. Everyone here cares and supports one another. They really want to help you." She recently made the Berkeley College Dean's List, based on her academic performance from last semester.
Designing her future
When she's not creating art in the studio lab at Woodland Park, Lucille works as a full-time Assistant Manager at Spencer's Gifts, located in Willowbrook Mall, Wayne, NJ. She started working there in February 2018, and is currently responsible for hiring new employees, and coordinating the entire staff schedule. She loves working in management, and has held similar roles at Journey's and Zuimez. "I enjoy bringing happiness and joy into the retail workspace for my employees." Inspired by all of the graphic merchandise available in the store, she looks forward to starting a full-time Graphic Design career upon graduation, and dreams of becoming an Art Director. She wants to own a magazine that will shine the spotlight on other rising artists.
For high school graduates thinking about what to do next, she said, "Don't rush into college until you're really ready. It's a huge change, and I didn't think it was going to be hard. The difference here at Berkeley College is that I have directed help and they want me to succeed."
The views and/or opinions in this article are those of the individuals interviewed. The academic achievements and/or employment outcomes described in this article are specific to each individual and are not a guarantee of similar results for past or current students. For up-to-date and detailed information, please visit BerkeleyCollege.edu and view our catalogs at BerkeleyCollege.edu/publications. 
Related Posts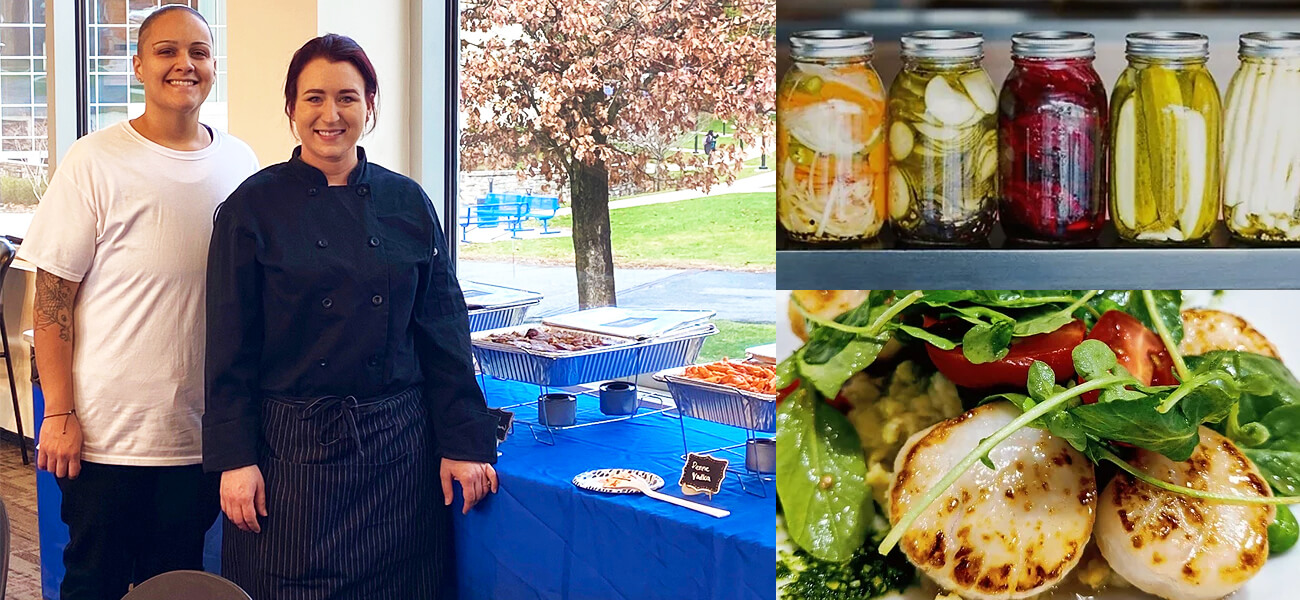 Management
Woodland Park
Graphic Design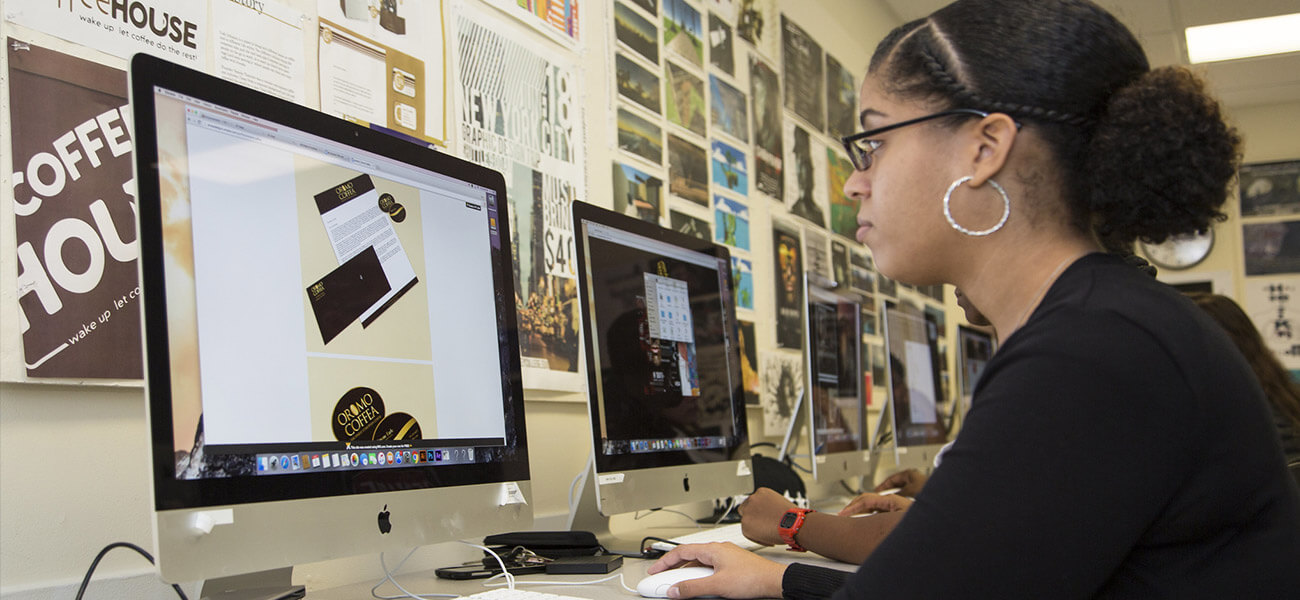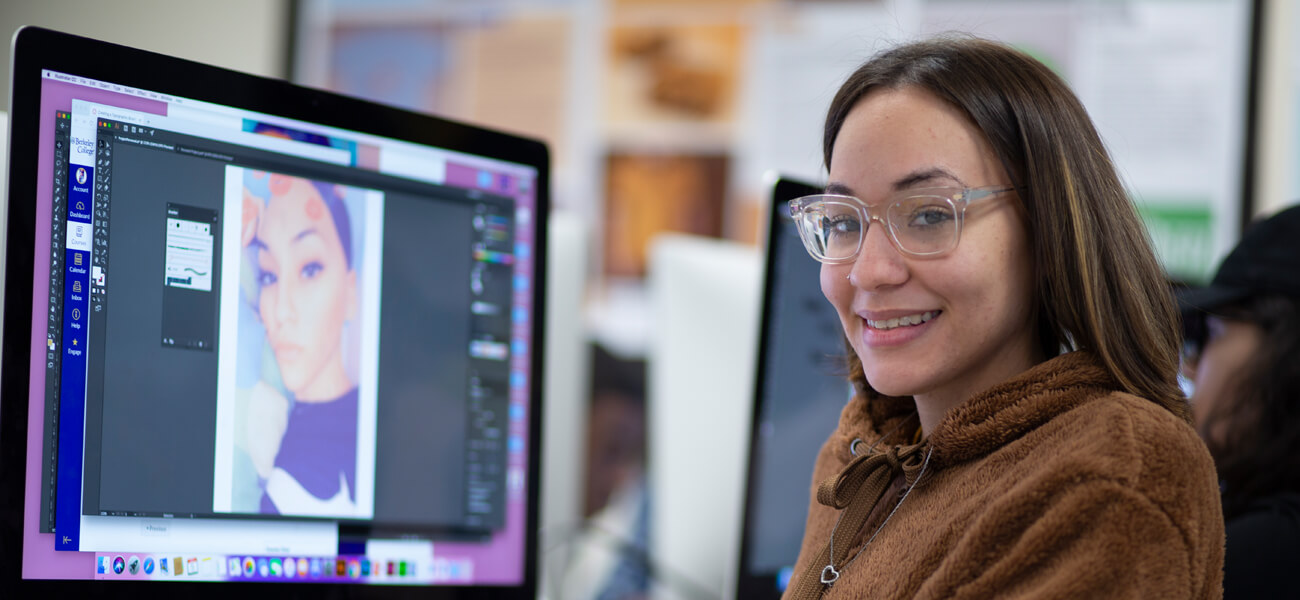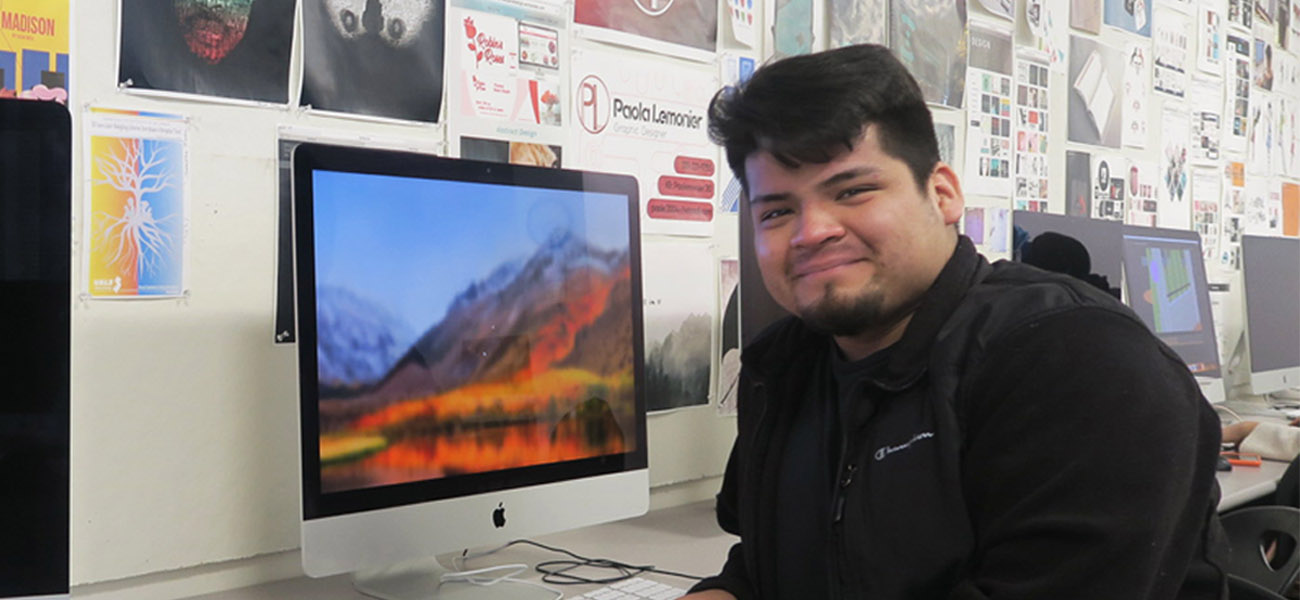 Graphic Design
Students
Woodland Park