National Nurses Week- Berkeley College Salutes School of Health Studies Grads
Tonya Johnson
08 May 2019
Graduates of the Berkeley College School of Health Studies Practical Nurse (PN) and Bachelor of Science in Nursing (B.S.N.) programs were honored during a pinning ceremony held on May 3, at The Brownstone in Paterson, NJ.
The nurse pinning ceremony included graduates from Winter 2019, Fall 2018, and Spring 2018 terms. In total, there were 117 graduates.
"There was a great sense of pride at Friday's pinning ceremony – and rightly so. Each of our graduates came a very long way and endured a rigorous course of study to be where they are now," said Lisa M. Azzarone, M.B.A., Accreditation Coordinator and Assessment Coordinator. "We are so proud of them and cannot wait to hear about all of the great things these graduates are destined to do."
From LPN to B.S.N.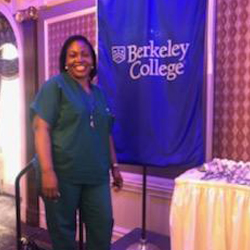 Bernice Ikomi-Stone was one of 30 graduates from the LPN to B.S.N. program to celebrate in this memorable achievement. She left her home back in Warri, Delta State of Nigeria, over 25 years ago to pursue a better life as a United States citizen.
"My experience at Berkeley has been amazing," Bernice said. "I enrolled in the LPN to B.S.N. program because I wanted to become a professional nurse. Berkeley College made it faster for me to achieve my goal. The most important things I have learned are teamwork, giving back to the community, leadership skills, and management."
She currently works at Hopkins Specialized Care Center in Brooklyn, New York as a charge nurse of a unit with 44 beds occupancy and three to four CNAs. "I administer medications and treatments. I prepare CNA's assignments, transfer and admit patients, and much more," she said.
Bernice recently took on a new role at the Center as unit nurse manager. "I am now in charge of the LPNs and CNAs in my unit. I work in collaboration with other departments," she said. "I'm also a patient advocate, and liaison between my patients and the doctors."
Nursing programs in New Jersey
In addition to the PN program, Berkeley College offers the first and only on-site Licensed Practical Nurse (LPN) to Bachelor of Science in Nursing (B.S.N.) degree program in New Jersey. The College's expanded Health Studies offerings provide a premier pathway to career growth in nursing and other health and medical-related fields.
Bernice credits the great support that she received from the faculty and other departments at the College. "Ms. Linda Pinsky-Mauro, COO, Woodland Park, has been very supportive of the Nigerian students as a whole," she said. "We asked for a Nigerian flag to be placed in the lobby of the campus and it was done in less than a week."
Medical Mission
In March, Bernice traveled to Ecuador on the medical mission trip sponsored by Healing the Children of New Jersey and Berkeley College. "I feel good because I had the opportunity to give back to society. The families were very happy to see us and very appreciative of the great work that we did," she said. "The surgeons, doctors, anesthesiologists, nurses, students, faculty, and language interpreters were amazing - we worked as one team. I'm very appreciative of Berkeley College for giving me the opportunity to serve as one of its ambassadors on this very important mission. It is in my nature to help people, and being part of the mission made my dream come true."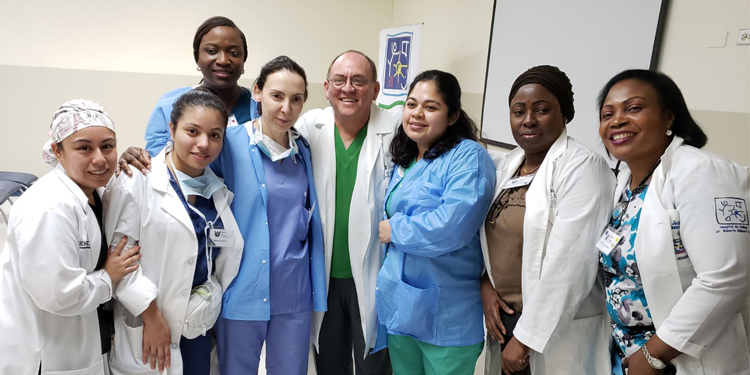 Bernice encourages other students to take full advantage of every opportunity that Berkeley offers, get involved, venture out of their department, and engage with other students and faculty. She plans to attend an accelerated DNP program in the future.
Eva Skuka, M.D., Ph.D., Dean, Berkeley College School of Health Studies, addressed the graduates during the ceremony: "Your obligation from this day forward is to stand up for the vulnerable and the voiceless. You need to embrace your role. There is no better way to leave your life than losing yourself in the service of others.
To learn more about Nursing, and other programs at Berkeley, visit BerkeleyCollege.edu. Thinking about pursuing a Master of Business Administration degree (M.B.A.)? Visit the Berkeley College Graduate degree program page for more information, or to schedule an appointment.
The views and/or opinions in this article are those of the individuals interviewed. The academic achievements and/or employment outcomes described in this article are specific to each individual and are not a guarantee of similar results for past or current students. For up-to-date and detailed information, please visit BerkeleyCollege.edu and view our catalogs at BerkeleyCollege.edu/publications. 
Related Posts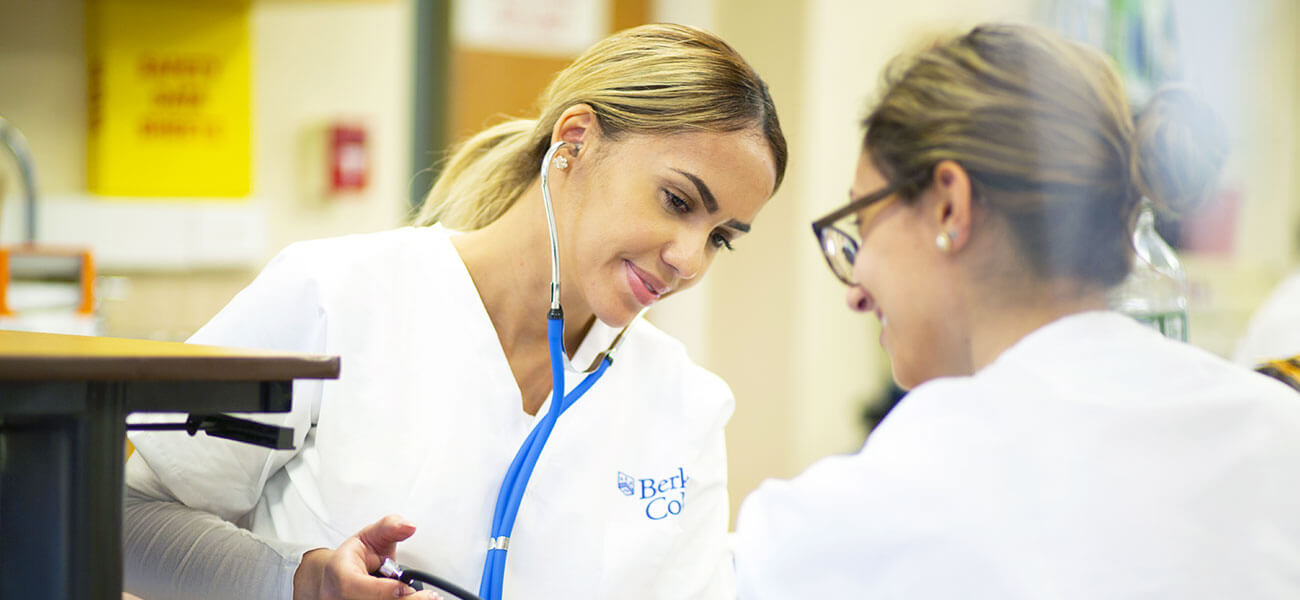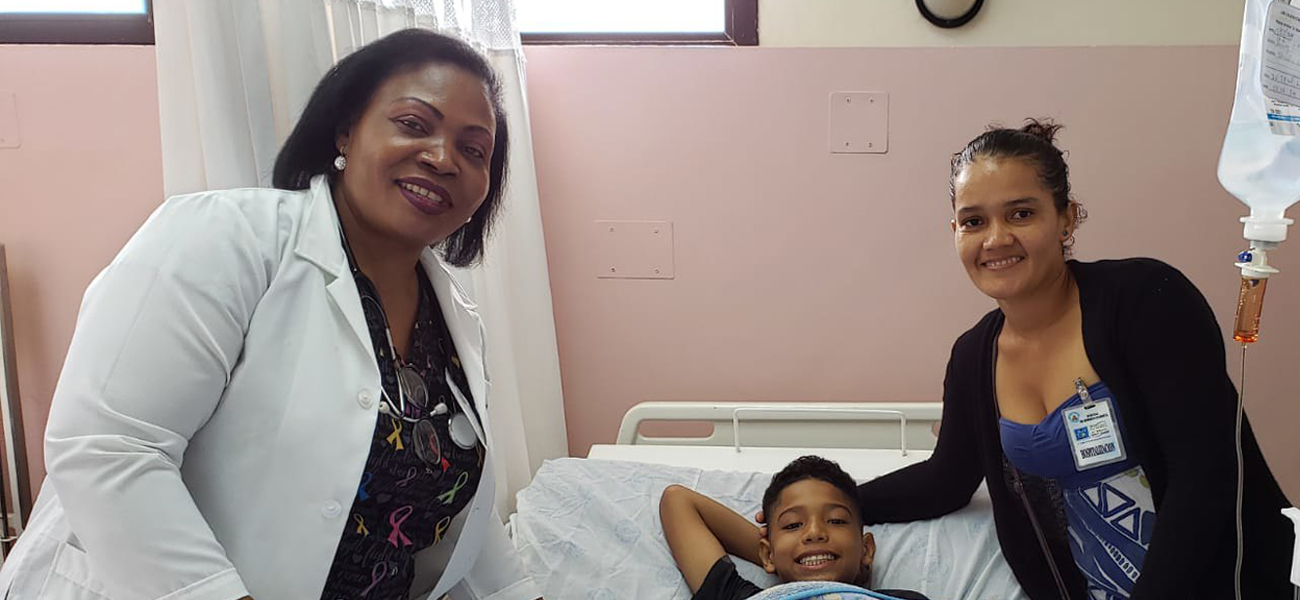 Students
Woodland Park
Alumni
Nursing