New specialized programs at Berkeley College address growing demands in the healthcare industry
James Thorpe
08 February 2021
Healthcare continues to be the fastest-growing career field. According to the U.S. Bureau of Labor Statistics, employment in healthcare occupations is projected to grow 15 percent from 2019 to 2029, much faster than the average for all occupations, adding about 2.4 million new jobs. Healthcare occupations are projected to add more jobs than any of the other occupational groups. This projected growth is mainly due to an aging population, leading to greater demand for healthcare services.
Exceptional employment outlook
To help healthcare organizations and facilities meet those demands, the Berkeley College School of Health Studies is introducing a series of Continuing Education programs to complement its popular degree and certificate programs.
Programs for all skill levels
"Our Continuing Education programs are designed to benefit a wide range of people," said Gabriel Holder, MD, RMA, CCMA, Chair of Berkeley's Medical Assistant; Medical Insurance, Billing and Coding; and Patient Care Technician programs. "They offer a great opportunity for current healthcare professionals to expand their skill sets and enhance their marketability. At the same time, the programs also offer excellent opportunities for someone with little or no healthcare experience to quickly prepare for entry-level employment without significant investments of time or money. They can then build on what they've learned, continuing into further training and applying credits they've earned into degree or certificate programs to qualify for even greater career possibilities. Once they're working, they're often eligible for tuition assistance from employers to continue their education."
New offerings within the Berkeley College School of Health Studies include:
Multi-course certificate training programs:
Electrocardiography Technician Training Program
Phlebotomy Technician Training Program
Medical Scribe Certificate Program
Stand-alone specialty courses, such as:
Clinical and Surgical Office Procedures (stand-alone course)
Medical Emergencies and Electrocardiography
Specimen Collection and Procedures
Endoscopic Reprocessing
Cardiac Arrhythmia Interpretation
Certified Healthcare Leadership
Surgical Processing Technician Certification Exam Review
Non-credit certificate and training courses:
Certified Professional Coder (CPC) Certification Exam Review
Medical Scribe I and Medical Scribe II
Surgical Technology Certification Exam Review
Medical Office and Facility Revenue Cycle
Medical Administrative Assistant
Relevant, practical, convenient programs
The programs and courses are offered in a hybrid format, combining both online instruction and in-person training in Berkeley's state-of-the-art facilities, where students learn hands-on using the same technology and equipment used in professional healthcare facilities. The programs were created in response to current demands in the healthcare field. "We work closely with Advisory Board members who are selected for their industry expertise," Dr. Holder pointed out. "We also look at current statistics and projections to offer programs with excellent chances of employment."
Expanding skill sets increases marketability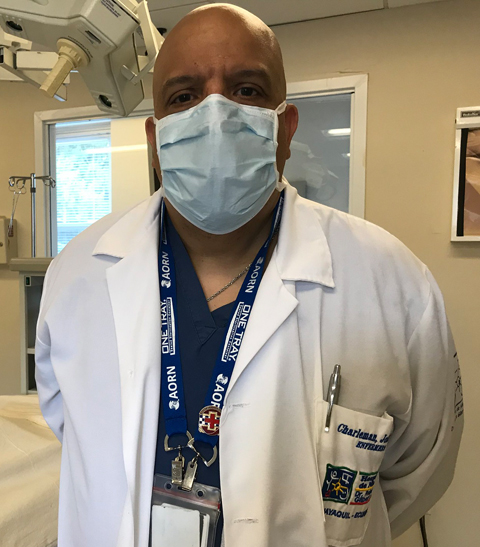 Continuing education is an integral part of a health professional's career," according to Dr. Joseph Charleman, CST, CSFA, CRCST, LPN, Chair of the Surgical Technology and Surgical Processing Technician programs in the Berkeley College School of Health Studies. "These new programs are ideal for working professionals to quickly gain and apply new skills. Many healthcare professionals are required to earn Continuing Education (CE) credits on a regular basis. But unlike some CE programs, many of Berkeley's new offerings provide the opportunity to earn credits toward a degree or certificate, which can be very beneficial to their careers."
Keeping up-to-date in a rapidly changing world
"The healthcare field is changing," continued Dr. Holder. "In all types of facilities—from major health systems to single-office medical practices to ambulatory care centers to medical billing offices—it's advantageous to be able to wear multiple hats. It benefits an administrative professional to learn some clinical skills. Similarly, clinicians can increase their value to an employer by adding administrative skills. The COVID-19 pandemic has also shown us that flexibility and adaptability are essential. And with technology and insurance regulations changing constantly, it's important to stay up-to-date to ensure career mobility."
Learning to succeed from those who already have
Dr. Charleman also spoke about the rigor and thoroughness of Berkeley's programs. "At Berkeley, you're learning from experienced professionals. Our faculty members hold impressive credentials and are able to share real-world know-how from top facilities," he noted. "Our students benefit greatly from their perspectives."
Berkeley's new Continuing Education programs will be available in the upcoming winter semester, which begins on January 4, 2021. To register, or for more information on Berkeley's programs, please visit BerkeleyCollege.edu.
The views and/or opinions in this article are those of the individuals interviewed. The academic achievements and/or employment outcomes described in this article are specific to each individual and are not a guarantee of similar results for past or current students. For up-to-date and detailed information, please visit BerkeleyCollege.edu and view our catalogs at BerkeleyCollege.edu/publications. 
RELATED POSTS