Presenting the Case for Education—and Careers—in Legal Studies
For many years, the Legal Studies degree programs have been among the most popular at Berkeley College. We recently spoke with practicing professionals, as well as current students, alumni, and professors—all of whom offered overwhelming testimony to the strengths of the program and the potential for careers in this exciting field. Berkeley offers programs leading to Associate's and Bachelor's degrees in Legal Studies, as well as a range of shorter-term certificate programs concentrated on the paralegal profession and other law-related areas. Programs are offered at Berkeley campuses in New York City and Newark, Woodbridge, and Woodland Park, New Jersey, and online.
An in-demand career field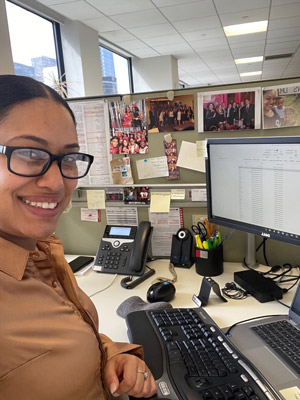 "The work market is excellent right now. There are plenty of remote and hybrid job available," according to Rebekah Andrews-Brannock, a Senior Corporate Paralegal at Marsh. She further stated, "Employers look for ambitious, hard-working, skilled employees. My advice would be to go into job interviews with confidence. A positive attitude in an interview could lead to a job placement where the employer will be willing to work with you on learning the job requirements you lack."

Understanding what employers look for
Lesley Renee Adams, a partner at Adams and Caughman, LLC, a Newark, NJ firm specializing in family law, has worked with legal assistants from Berkeley College and found them to be well prepared. Her firm has been working virtually since the onset of the pandemic, so Ms. Adams is particularly demanding when hiring and looks for specific qualities and abilities in candidates.
"The ability to work independently is important when I'm looking for candidates for a legal assistant position," she said. "I need people who are able to think two or three steps ahead, so 'passive' simply doesn't work. I want someone with the desire and the 'get up and go' to learn and become an asset to the firm."
The importance of having the right skills
Ms. Adams also stressed how important it is for recent graduates to have a thorough understanding of the technology used in law firms, including programs such as MyCase, Leap, Clio, and others. Attorney Frances Browne agreed.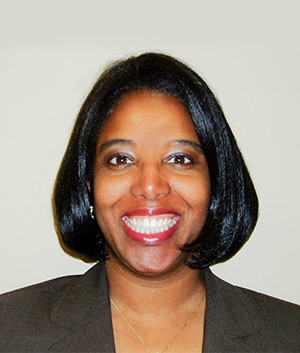 "I've found that Berkeley graduates are very proficient in the technology that we use," noted Ms. Browne, a partner at Brody & Browne, a New York City law firm specializing in commercial litigation and employment law. "They have a good handle on the intersection between technology and the law." She continued, "In addition to the strong skillset that we expect, we also look for intangible qualities—such as excellent interpersonal skills, reliability, and professionalism when interfacing with clients. The ability to connect threads and facts within legal documents is also a plus."
The Berkeley Legal Studies curriculum, which is developed with input from an Advisory Board of industry experts to give students the skills that employers demand, covers current law-related applications and electronic legal research databases.
Stories of success
Also pleased with graduates and interns from the Berkeley Legal Studies program, Ms. Browne added, "When we opened the firm in 2009, one of our first legal assistants was a Berkeley graduate. She remained with us for several years and eventually moved to a larger firm. While we were sad to see her go, we fully supported the decision as a natural career move for her."
Ms. Browne also remembered the outstanding work of a Berkeley intern, an international student from Sweden. "In addition to my law practice, I am an adjunct professor at Fordham Law School," Ms. Browne said. "My intern assisted with the preparation of a new course that I was about to teach. and she was extremely helpful. I provided a glowing reference for her and she eventually returned to Sweden where she landed an excellent full-time position. We're still in touch to this day."
Learning to succeed from those who already have
As a Berkeley College graduate, a practicing attorney, and a current adjunct professor, Chris Cuomo offered evidence from multiple perspectives. "The professors genuinely care about the success of their students, past, and present," he said. "On numerous occasions, students have mentioned how responsive and understanding their professors are. This proved extremely valuable during the pandemic. The professors were more than willing to help students get through any difficulties they may have been experiencing."
Real-world career preparation is key
"In particular, the Berkeley College Legal Studies program prepared me for the demanding standards of Legal Writing," according to Lachanee Scott, who is currently working as a paralegal and in her first year of law school. "Although I started my current position with absolutely no relevant work experience, my employer was particularly impressed by my level of professionalism and understanding of a law firm setting—all qualities that were improved on because of the courses taught in the program, including my internships."
She continued, "As a current first-year law student, the program at Berkeley College gave me a leg up on case briefing, which surprisingly was not taught at my law school. The introductory courses at Berkeley, such as Introduction to Criminal Law, were extremely helpful because they provided a good foundation for doing well in the mandatory first year courses in law school."
Promoting opportunities for advancement
"When I graduated from Berkeley, I felt very well prepared for the professional world," recalled alum Jeff Reisner, who now also sits on the College's Legal Studies Advisory Board. "The courses were very hands-on and gave me excellent insight into the areas of law and the types of legal work I would encounter in my career. My professors were all excellent and I really felt like they invested themselves greatly in the students' future and success. There is no question that went a long way toward giving me the confidence to be successful."
Mr. Reisner went on, "I have a broad range of experience as a paralegal spanning many years in senior and supervisory roles, primarily in-house, but with a healthy amount of law firm experience. My recent roles have included legal operations, with a strong focus on legal technology solutions including legal matter, e-billing, spend and contract lifecycle management."
Preparing students for law school
In addition to preparing students for entry-level careers in the legal field, Berkeley offers the Pre-Law Advisory Center (PLAC), a digital organization dedicated to helping Berkeley College students who are interested in attending law school or other advanced studies in law. Under the direction of Professor Moya Bansile, Esq., students have access to valuable information about law schools and the law school admission process.
The PLAC provides many resources, including preparation for LSAT exams and other law school-related events, such as a recent forum which offered the chance to hear Berkeley College alumnae sharing their diverse paths to law school. The PLAC also offers excellent networking opportunities to connect with peers who are on a mission to attend law school. You can read more about the PLAC and success stories of Berkeley College Legal Studies students.
Innovative approaches to teaching make a difference
"I bring real-life examples and experiences of the material I am teaching into the classroom while engaging students by immersing them in demonstrative scenarios with role-playing, peer review, and other teaching tools designed to show the teaching material in action" said Professor Moya Bansile.
Professor Christopher Balala, also a practicing attorney, shows students actual court filings, including discovery requests, complaints, and answers. "I even show pictures of myself arguing before the New York Appellate Division so students can see the inside of an ornate courtroom before a (sometimes daunting) panel of justices," he explained.
Graduate ready for the professional world
Professor Balala believes that Berkeley graduates are very prepared for post-graduate life. "The accessibility of campus resources is fundamental to a student's success," he pointed out. "At Berkeley College, students are constantly advised of where they stand in their courses and how they can unlock their maximum potential. Berkeley prioritizes a student's post-graduate life, and it certainly works."
"I was able to secure my first post-graduate position through Berkeley Career Services department," recalled Professor Cuomo. "This placement sparked my interest in pursuing a career as an attorney. I tell my students there are no limitations on what you can do as long as you work hard. The College and professors assure the students that we will be available and willing to help them throughout their journey, even after post-graduation."
"I currently work in Quality Assurance," said Stephanie Genna, a Berkeley graduate and current law school student. "My Legal Studies degree helps me analyze regulations and instructions much like how lawyers need to analyze the law. Berkeley prepared me for law school with a foundation of the different areas of law. Many of the topics discussed in law school were already familiar."
Inspiring lifelong education
"I had several professors to which I directly attribute my success in law school," continued Ms. Genna. "They were always readily accessible, offered valuable teaching aids, and even assisted me in applying for law school. Many of their teachings have assisted me in putting forth quality work in law school. I also know that even though I am no longer their student, I can always reach out to them for advice and scholarly questions."
"The quality of education I received at Berkeley was priceless and it was a great investment in myself," according to Ms. Genna. "The College rewards academic performance with grants and scholarships, making my degree affordable." She continued, "Because of the great support network they provided, I was able to graduate Summa Cum Laude, despite working full-time, going to school full-time, and giving birth to my second child."
Closing arguments
Patty Greer, Chair of the Berkeley Legal Studies program, offered her perspective on the strengths of the program, "I have been fortunate to work with a very talented and dedicated Legal Studies faculty who truly care about the success of their students. In large part, it is this student-centered approach with really sets Berkeley College's Legal Studies program apart from other institutions."
Whether your goals include a position in the legal support field, or law school and a career practicing law, the Berkeley College Legal Studies programs provide proven preparation that can be the first step toward a very rewarding future. Contact Berkeley College to get started.
---
The views and/or opinions in this article are those of the individuals interviewed. The academic achievements and/or employment outcomes described in this article are specific to each individual and are not a guarantee of similar results for past or current students. For up-to-date and detailed information, please visit BerkeleyCollege.edu and view our catalogs at BerkeleyCollege.edu/publications. 
Related Posts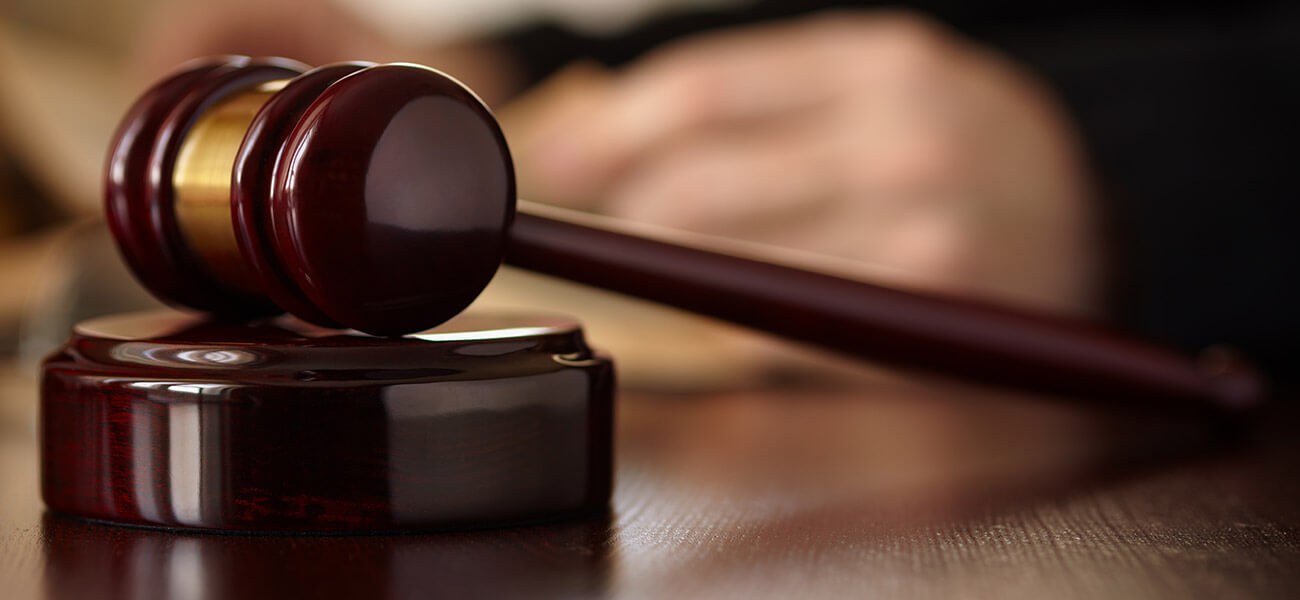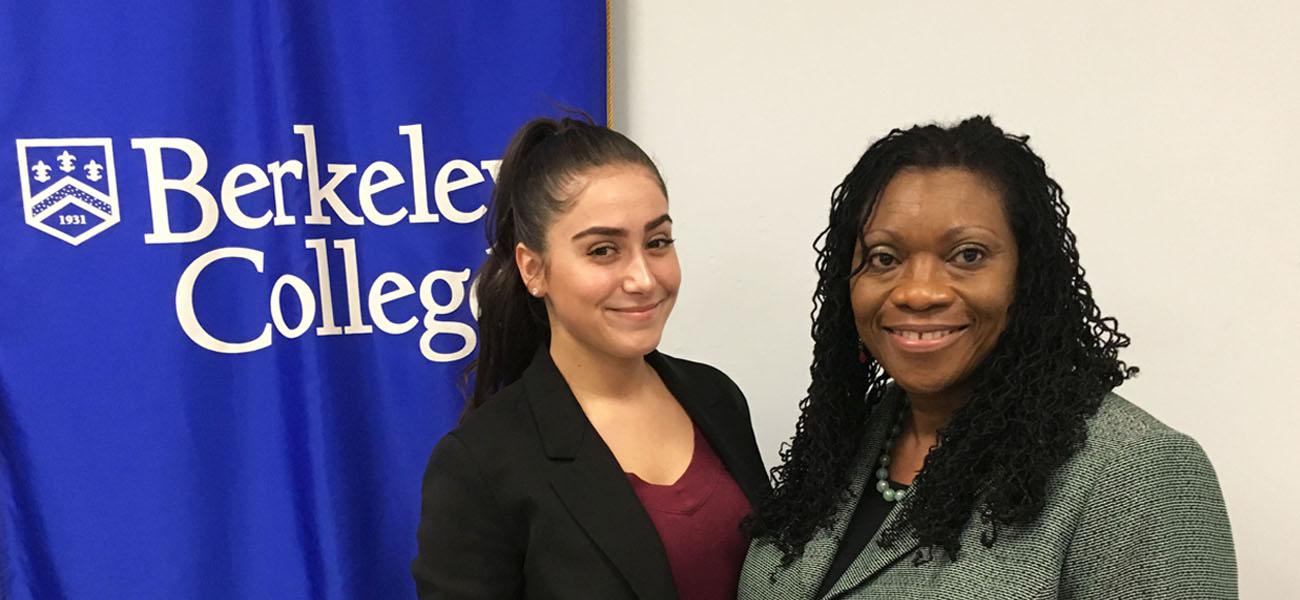 Students
Legal Studies
Faculty and Staff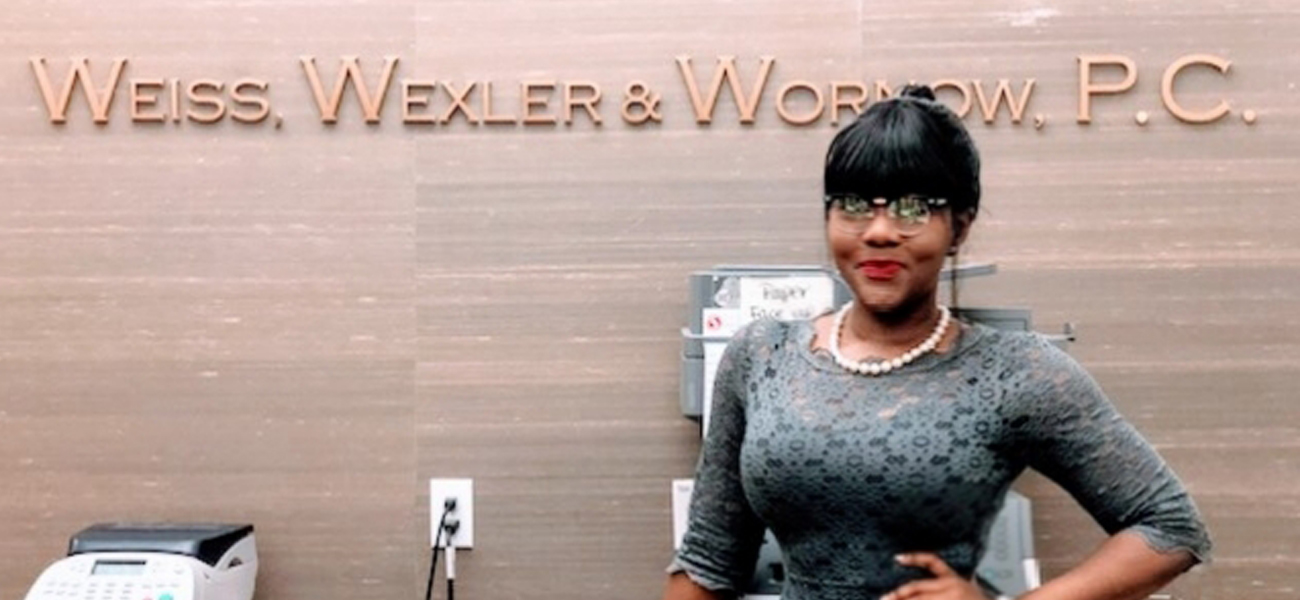 Legal Studies
NYC Midtown
Berkeley College Online
Students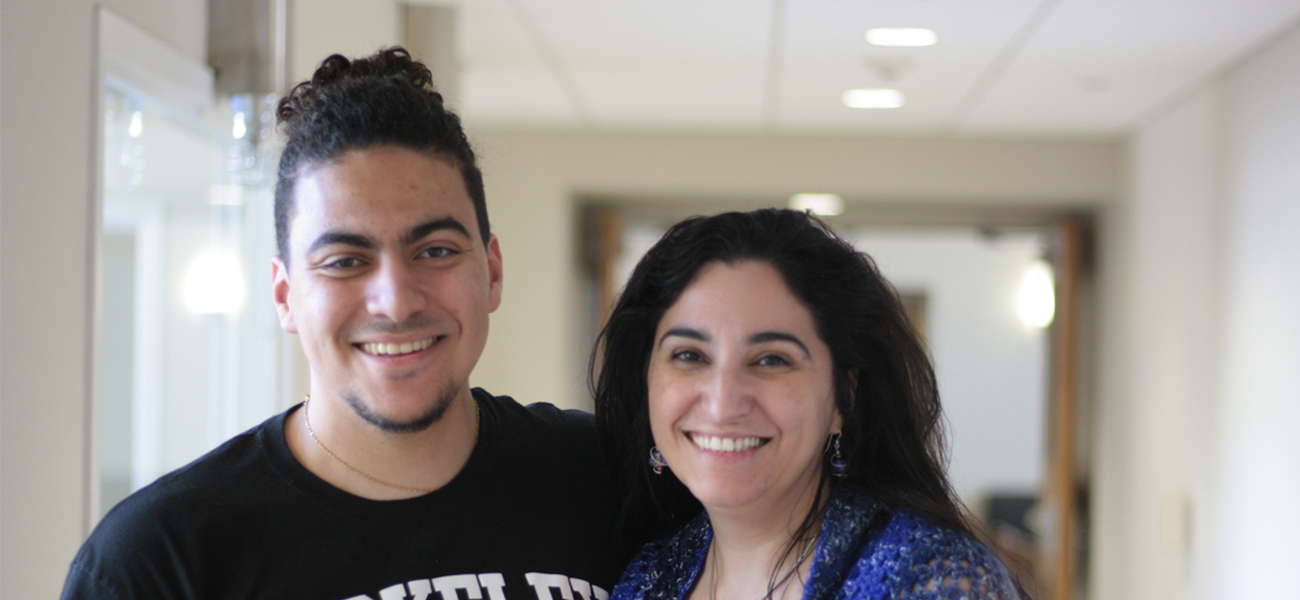 Students
Woodland Park
Legal Studies
Graphic Design