An Eye-Opening Perspective on Reclaiming Small Business in New York City
Adriana Romero, Student, Business Administration – Management
11 December 2020
What is one thing we can do to bring New York City back?
This question was asked by moderator Angelica O. Tang during "Change Leaders: Women Recalibrating the Future," a special event hosted by Berkeley College during Women Entrepreneurship 2020 in October.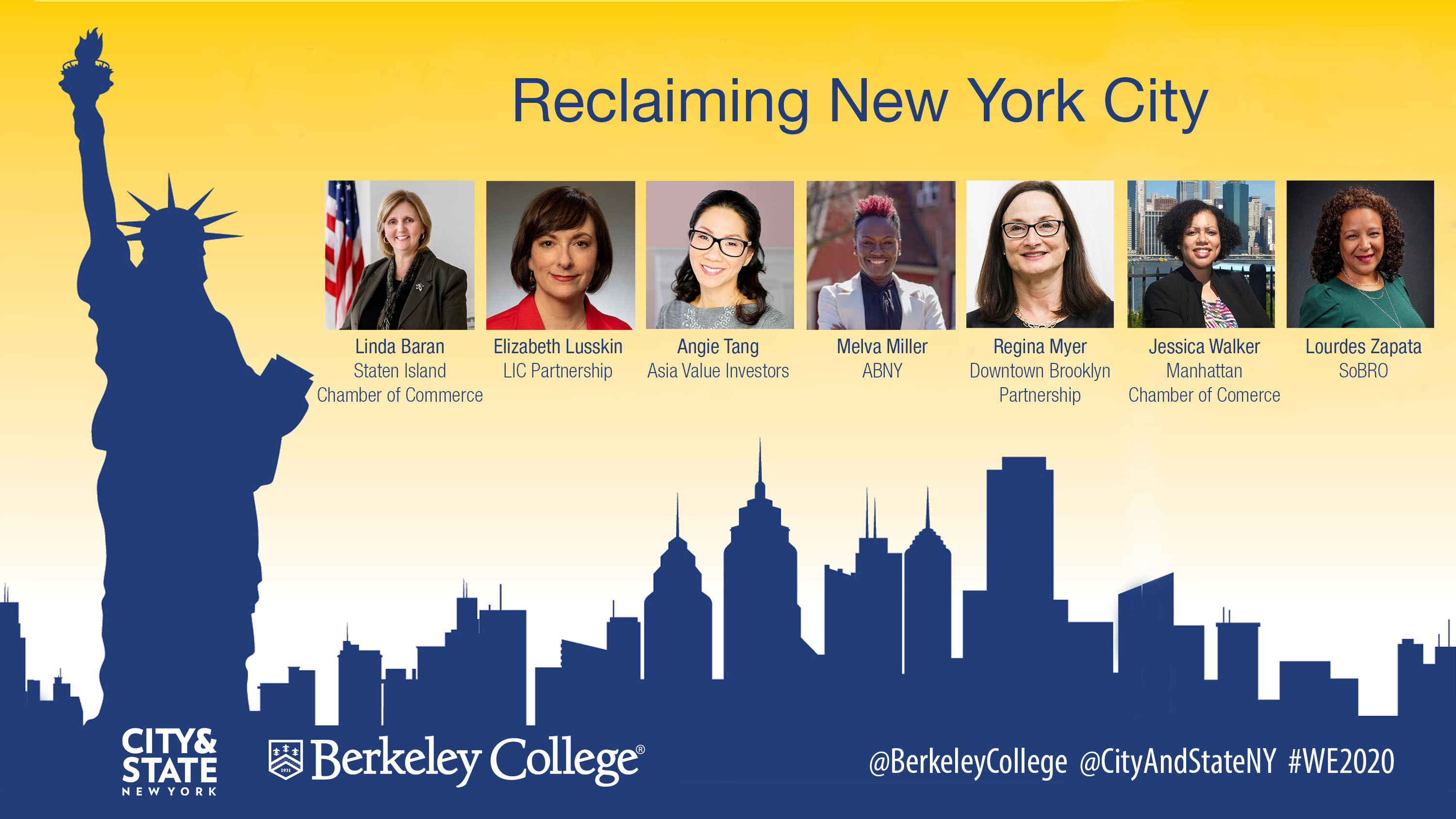 The third panel, "Reclaiming New York City," featured panelists representing chambers of commerce from across New York City. I learned that as a community we have to help each other and small businesses by buying locally and spending when we can.
According to Tang, New York City faces a 16% unemployment rate – twice the national average. About a third of the City's 236,000 small businesses may not reopen due to the COVID-19 pandemic.
According to Jessica Walker, President and CEO of the Manhattan Chamber of Commerce, "Small businesses are doing everything they can to fight and help one another." It seems that New Yorkers are stepping up to support small businesses and their communities during this pandemic.
Panelist Elizabeth Lusskin, President of the Long Island City Partnership, believes empathy is the key ingredient to get New York City back on its feet.
She explained that empathy drives policies and consumer behavior, and the City needs this to bounce back. Lusskin is correct – it is essential to show compassion now, more than ever. Businesses can lead with empathy and address consumer needs to strengthen their connection with their communities. This can build a foundation and develop long-lasting connections.
Linda Baran, President and CEO of the Staten Island Chamber of Commerce, believes the City should temporarily suspend fines and fees for small businesses. Businesses are having a difficult time during the pandemic, and the last thing they need is to worry about is additional fees.
As a Business Management major, this panel opened my eyes to the fundamentals of small businesses within the economic structure. Most of the time, people focus on franchises, but small businesses make an economy grow, too. For the greater community to be successful across the board, we need everyone to succeed.
The views of these extraordinary panelists gave me important insights that will assist me in my future goals within the banking and nonprofit sectors. I learned how businesses are being affected in the current economy and what I can do, as a consumer, to help. One this is for sure – I will be shopping local and supporting the small businesses in my community.
Adriana Romero is pursuing a Bachelor's degree in Business Administration – Management from Berkeley College. She is an intern in Business Development for DoNYC and for the Office of Communications and External Relations at Berkeley College. Click here to read more.