Berkeley College Awards More than 500 High School Scholarships

FOR IMMEDIATE RELEASE
Friday, May 1, 2020
BERKELEY COLLEGE AWARDS SCHOLARSHIPS TO MORE THAN
500 GRADUATING HIGH SCHOOL SENIORS
IN NEW YORK AND NEW JERSEY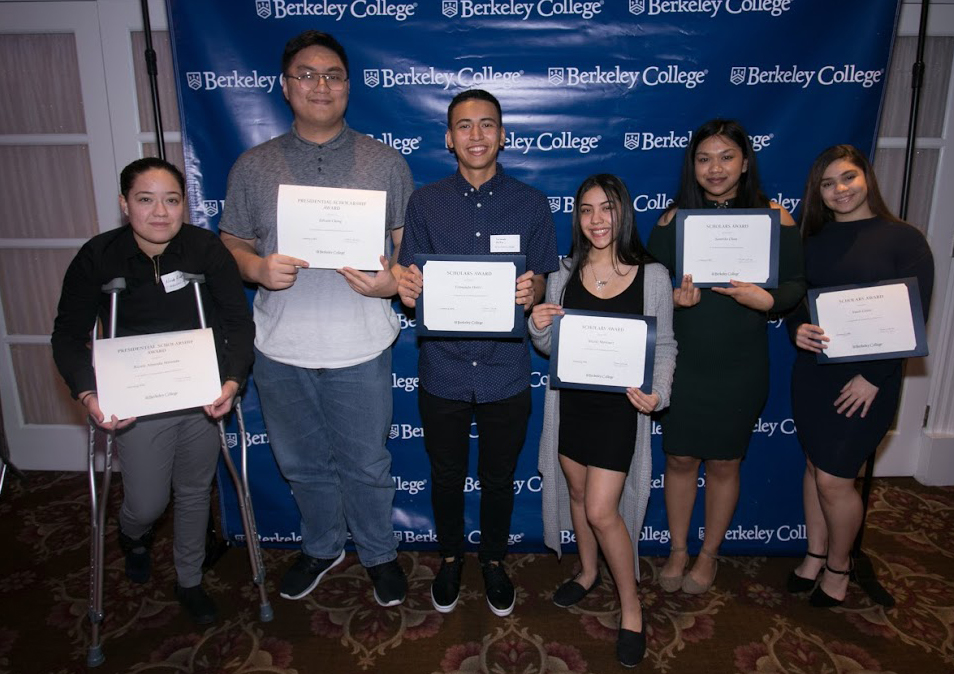 Photo Caption: Many of the high school seniors in New Jersey and New York celebrated their scholarship awards from Berkeley College with their friends and families at receptions held before the COVID-19 pandemic. They heard from students who had received scholarships in the previous years, who shared their experiences and suggestions to achieve success going forward.
Berkeley College has announced scholarships that have been offered to more than 500 graduating high school seniors in New Jersey and New York.  These high school graduates have demonstrated a high level of achievement and represent more than 240 high schools in the two states. To view the list of high schools, click here. 
"We congratulate you on earning a scholarship to Berkeley College to continue your education and build upon your impressive record of achievement," said Michael J. Smith, President of Berkeley College. "We believe in you and your future. As you consider the choices before you, take a moment to think about how you can best utilize your talents to positively change the lives of others. The only limits to your success are the limits you place on yourself." 
President Smith noted that Berkeley College is able to pivot with the needs of students in a COVID-19 climate by conducting courses online when necessary and onsite for students who prefer a traditional teaching and learning experience once COVID-19 isolation orders are lifted. "Berkeley College offers the best of both worlds," added President Smith. 
First-year Berkeley College scholarship award recipients have the option to enroll in a college credit course during the forthcoming semester, and to participate in virtual programming designed to support and prepare students to achieve success and make the most out of their Berkeley College experience. Prospective students can meet virtually with the admissions counselor, participate with their family in a FAFSA workshop, or attend a career-specific workshop with students and faculty on popular programs such as interior or graphic design, criminal justice or data business science, for example. 
More than $47 million in Berkeley College institutional aid was provided to qualified students during the 2018-2019 award year. 
About Berkeley College
Berkeley College, founded in 1931, is a career-focused institution accredited by the Middle States Commission on Higher Education that offers students Master's, Bachelor's, and Associate's degree and Certificate programs in more than 20 career fields. The College has campuses in Midtown Manhattan and White Plains, NY, as well as in Newark, Paramus, Woodbridge and Woodland Park, NJ, with more than 5,700 students enrolled. In addition, Berkeley College Online® serves a global population. U.S. News & World Report has named Berkeley College among the Best Colleges for Online Bachelor's Programs and among the Best Online Bachelor's Programs for Veterans, for seven consecutive years. The website address is www.BerkeleyCollege.edu.
The mission of Berkeley College is to empower students to achieve lifelong success in dynamic careers.