Berkeley College to Reflect on Equality, Justice and Inclusion with Juneteenth Observation in 2021

FOR IMMEDIATE RELEASE
Monday, November 2, 2020
BERKELEY COLLEGE TO REFLECT ON EQUALITY, JUSTICE AND INCLUSION WITH JUNETEENTH OBSERVATION IN 2021
Celebration Marks End of Slavery in the United States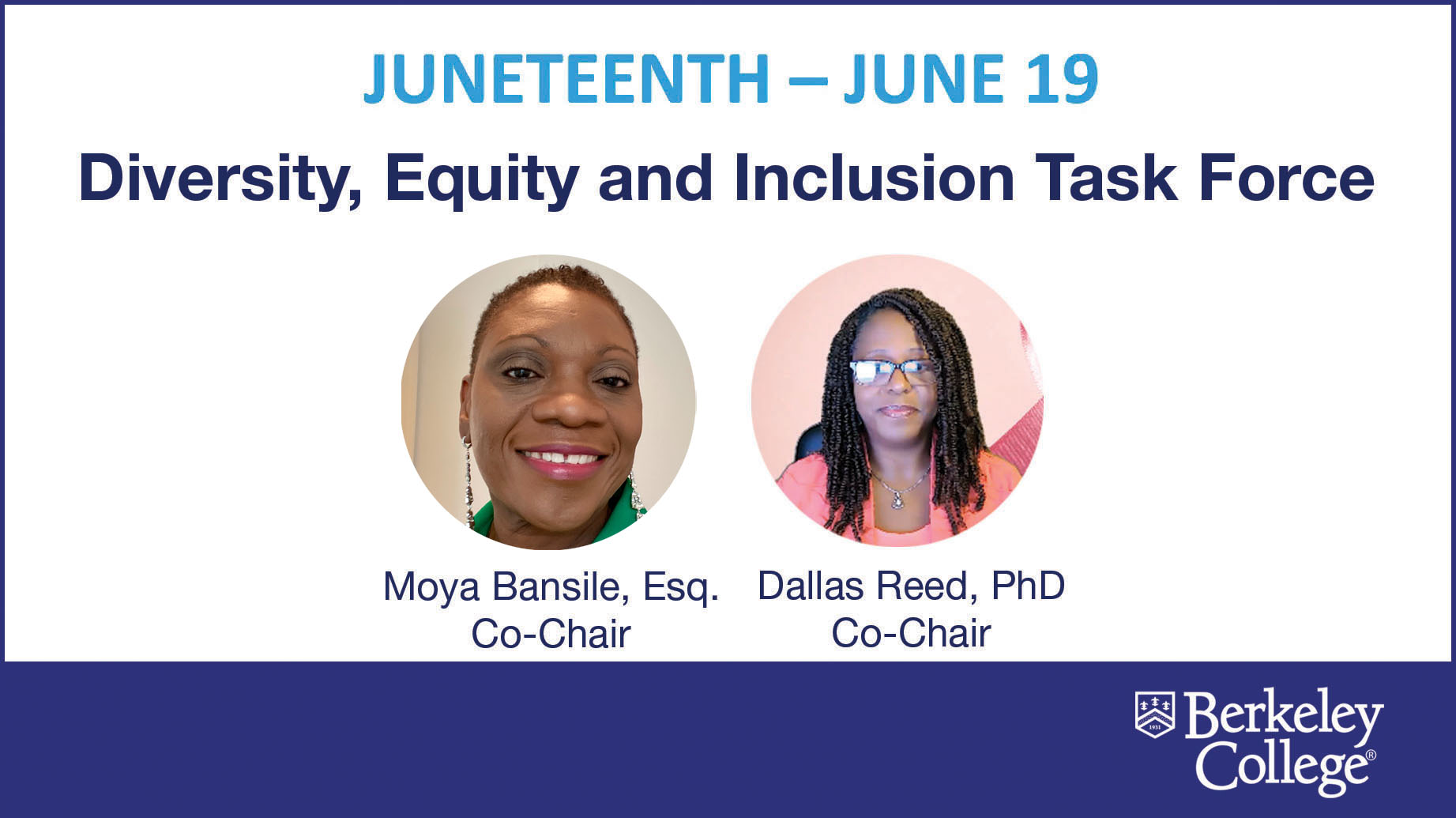 Share the News: @BerkeleyCollege #Juneteenth
Berkeley College and its Diversity, Equity and Inclusion Task Force (DEITF) recently announced that the 2020-2021 academic calendar will observe Juneteenth as an official college holiday. Beginning on June 18, 2021, and for each third Friday in the month of June thereafter, the College will be closed to commemorate the end of slavery in the United States and as a day of reflection on equality, justice and inclusion for all cultures. Michael J. Smith, President of Berkeley College, introduced the Co-Chairs of the DEITF, who made the announcement to faculty and staff during virtual Convocation held on October 28, 2020.
"On Juneteenth 2021, we invite all members of our Berkeley College family to join in the spirit of celebration of this important marker in our collective history, as we also commit ourselves to the vital work of bettering ourselves, our communities and our country," said Moya Bansile, Esq., Professor, Legal Studies, and Co-Chair of the Task Force.
Juneteenth was recently ratified into law in the States of New York and New Jersey, where Berkeley College has campuses.
"The work of the Berkeley College Diversity, Equity and Inclusion Task Force prompts us as an educational institution to address issues of racial inequality, and to strengthen our College and communities," President Smith said. 
"Berkeley College proudly serves a very diverse student population, and we must make certain that diversity, equity and inclusion is woven throughout our practices, policies, staffing and decision making," added Dallas Reed, PhD, Vice President, Student Development and Campus Life, and Co-Chair of the Task Force.
Juneteenth is the oldest known celebration of the end of slavery in the United States, when, on June 19, 1865, Union soldiers, led by Major General Gordon Granger, landed at Galveston, TX, with news that the war had ended and that the previously enslaved people were now free. For slaves deep in the former confederacy, this news came two-and-a-half years after President Abraham Lincoln's January 1863 signing of the Emancipation Proclamation, which proclaimed freedom from slavery. Today, Juneteenth celebrates African American freedom and achievement, while encouraging continuous self-development and respect for all people and all cultures.
Berkeley College established the Diversity, Equity and Inclusion Task Force in July 2020, in order to remain responsive to local and national challenges of racial equality, systemic racism and social justice. The 12-member Task Force, comprised of faculty, staff and administrators, has been in close contact with all members of the Berkeley College community, including students and alumni, as they complete a campus climate survey and develop an action plan to establish and measure institutional priorities to advance diversity, equity and inclusion efforts both internally and externally.
About Berkeley College
Berkeley College, founded in 1931, is a career-focused institution accredited by the Middle States Commission on Higher Education that offers students Master's, Bachelor's, and Associate's degree and Certificate programs in more than 20 career fields. The College also offers continuing education programs to enhance career credentials.
Berkeley College has campuses in Midtown Manhattan and White Plains, NY, as well as in Newark, Paramus, Woodbridge and Woodland Park, NJ, with more than 4,900 students enrolled. In addition, Berkeley College Online® serves a global population. U.S. News & World Report has named Berkeley College among the Best Colleges for Online Bachelor's Programs and among the Best Online Bachelor's Programs for Veterans, for seven consecutive years. The website address is www.BerkeleyCollege.edu
The mission of Berkeley College is to empower students to achieve lifelong success in dynamic careers.