Berkeley College Student Honored as Rising Star Awardee at 7th Annual NJBIA Women Business Leaders Forum

FOR IMMEDIATE RELEASE
Thursday, September 23, 2021
BERKELEY COLLEGE STUDENT HONORED AS RISING STAR AWARDEE AT 7TH ANNUAL NJBIA WOMEN BUSINESS LEADERS FORUM
"I can be a catalyst for change and improve the quality of life for everyone."
Angeline Gil of Paterson, NJ, Berkeley College Honors Student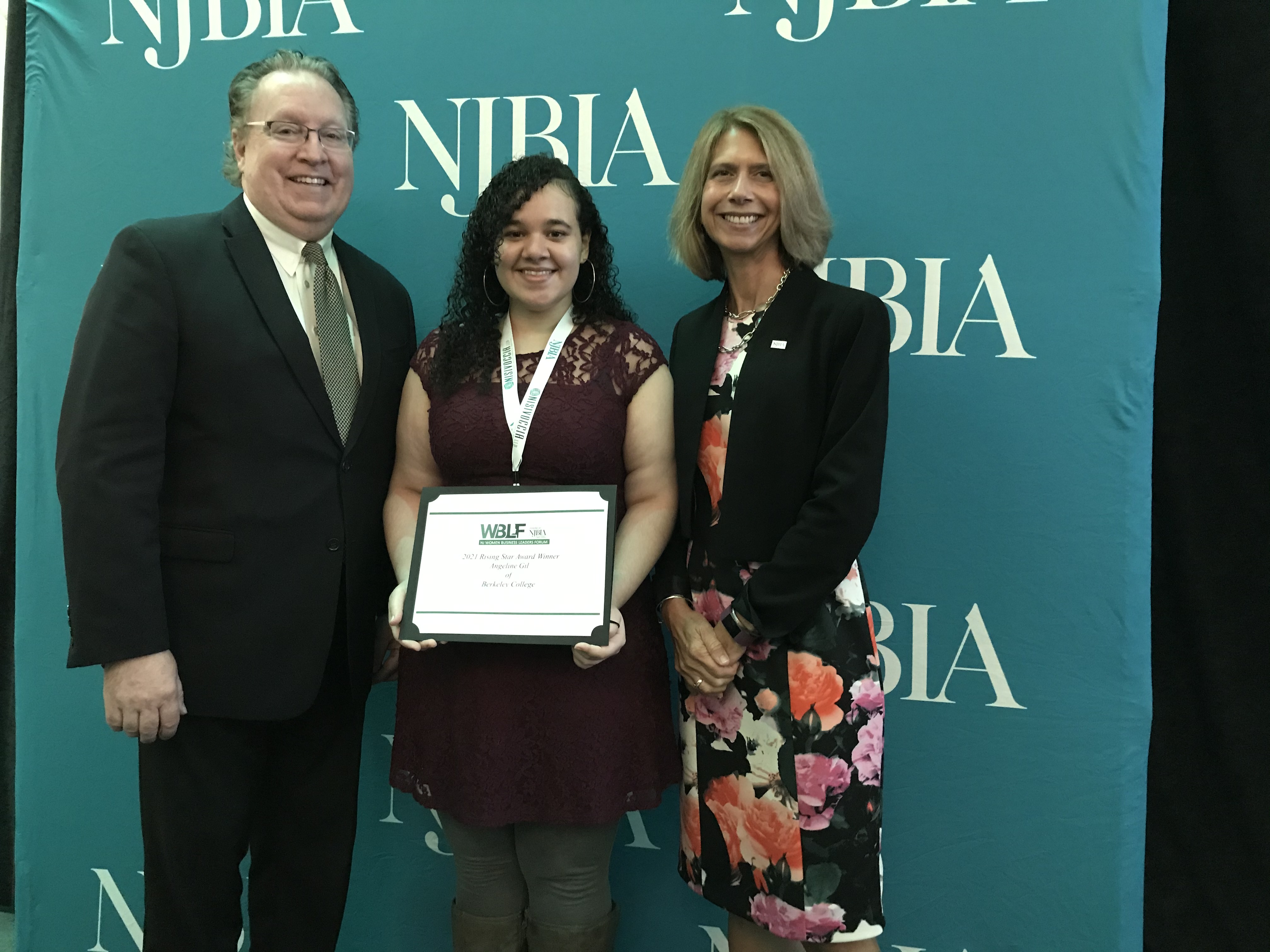 Photo Caption: (Left to right) Michael J. Smith, President of Berkeley College, Berkeley College Honors student Angeline Gil of Paterson, NJ, and Michele Siekerka, President and CEO, New Jersey Business & Industry Association (NJBIA), at the 7th Annual NJBIA Women Business Leaders Forum opening Cocktail Reception held at The Palace at Somerset Park in Somerset, NJ, on Wednesday, September 22, 2021. Gil is a 2021 recipient of the Rising Star Award, which honors New Jersey college students who exhibit future business leadership potential.
Share the News: @BerkeleyCollege @NJBIA #WomenBusinessLeadersForum
Berkeley College student Angeline Gil of Paterson, NJ, is a 2021 recipient of the New Jersey Business & Industry Association (NJBIA) Rising Star Award, which honors New Jersey college students who exhibit future business leadership potential. Gil is one of five students to receive the recognition during the 7th Annual NJBIA Women Business Leaders Forum, which is being held as a hybrid event featuring both in-person and virtual components, from September 22 to 24, 2021.
"NJBIA's Rising Star Awards honor students who have demonstrated a passion for their career path, academic success, and a commitment to volunteering in their communities during their undergraduate careers," said Michele Siekerka, President and CEO, NJBIA. "This year, we are proud to recognize the accomplishments of five students who have distinguished themselves at New Jersey institutions of higher education and are destined for great professional success."
Gil is pursuing a Bachelor of Business Administration in Health Services Management at Berkeley College. She said the COVID-19 pandemic inspired her to seek a career in public health, where she would like to one day have a leadership position at a New Jersey hospital.
"I have seen firsthand the vital role that healthcare workers play in our society and how important it is to have ethical and educated workers," Gil said. "I want to be a part of the guiding force toward quality care."
In addition to her studies, Gil serves on the executive board of the Berkeley College chapter of the National Society of Leadership and Success, an organization whose members are selected by their colleges based on academic standing or leadership potential. She is also part of the College's Honors Program for high-achieving students, and active in the Volunteer Leadership Team, where she helps organize service opportunities with organizations like the Boys & Girls Club of Paterson and Passaic.
"I believe that when one person in the community succeeds, we all succeed. My mission is to bring this mentality to the healthcare industry … I can be a catalyst for change and improve the quality of life for everyone," said Gil.
Other Rising Star awardees include Elizabeth O'Hara of Harleysville, PA, a student at Rider University; Rohan Dhote of Parsippany, NJ, a student at Ramapo College of New Jersey; Taiphane Orange of Neptune, NJ, a student at Brookdale Community College; and Nohemi Hernandez of Union City, NJ, a student at Montclair State University.
Berkeley College Sponsors Women Business Leaders Forum
As a co-sponsor of the NJBIA forum, Berkeley College faculty and staff will share their expertise during the event. Darshan Desai, PhD, Chair, Business Data Science, Larry L. Luing School of Business®, will be featured on the "Women in STEM" panel on September 24, 2021, at 12:30 p.m. Jasmine Briggs-Rogers, Senior Director, Career Services, will speak as part of the "COVID and Your Career Path" panel, which will be available on-demand beginning September 24, 2021. Berkeley College Career Services counselors will also provide professional coaching sessions.
Berkeley College celebrates its 90th anniversary in 2021. The theme commemorating this milestone is "Empowering Lives for 90 Years!" Visit the 90th Anniversary webpage for more information.
About Berkeley College
Berkeley College, founded in 1931, is a career-focused institution accredited by the Middle States Commission on Higher Education that offers students Master's, Bachelor's, and Associate's degree and Certificate programs in more than 20 career fields. The College also offers continuing education programs to enhance career credentials.
Berkeley College has campuses in Newark, Paramus, Woodbridge, and Woodland Park, NJ, and in Midtown Manhattan, NY, with more than 4,900 students enrolled. In addition, Berkeley College Online® serves a global population. U.S. News & World Report has named Berkeley College among the Best Colleges for Online Bachelor's Programs and among the Best Online Bachelor's Programs for Veterans, for eight consecutive years. The website address is www.BerkeleyCollege.edu.
The mission of Berkeley College is to empower students to achieve lifelong success in dynamic careers.