MBA Graduate Restarts Trucking Business in Post-COVID Economy

FOR IMMEDIATE RELEASE
Wednesday, September 1, 2021
BERKELEY COLLEGE MBA GRADUATE USES LESSONS FROM PROGRAM TO
RESTART TRUCKING BUSINESS IN POST-COVID ECONOMY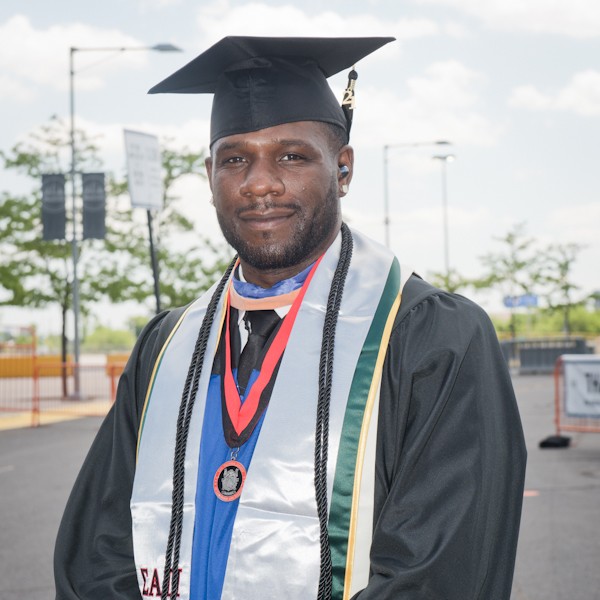 David Brown of West Haven, CT, earned both a Master of Business Administration in Management in 2021 and Bachelor of Business Administration in General Business in 2014 from Berkeley College.
"The information I learned in both of my degree programs increased my effectiveness as an executive leader," he said. "I was pushed to analyze data more thoroughly and with greater detail to define the 'why' with more complexity. I utilize these skills in the way I lead and manage my business operations today."
Brown's companies, DBTS Trucking Services and WTB Transport, provide freight delivery transportation of high-value pharmaceutical products across the 48 contiguous United States and Canada. DBTS is an independent service provider registered with the federal government as a minority-owned enterprise, while WTB partners with FedEx Custom Critical. The operations of both entities were impacted by the global COVID-19 pandemic shutdown. After several attempts at obtaining funding, Brown was able to secure more than $100,000 in COVID-19 EIDL (Economic Injury Disaster Loans) in 2020 and 2021 through the U.S. Small Business Administration, enabling him to finally restart his operations this year.
Brown faced many obstacles on his journey, but he said, "I refuse to quit and be a victim. Instead, when adversity hits me, I learn, reassess and get back up." Brown also feels strongly about empowering those around him. "I want to be a pillar within my community who focuses on solutions to build a better tomorrow for others," he said.
Brown is currently pursuing a Doctorate of Business Administration at Sacred Heart University and plans to launch future ventures in the trucking industry, as well as teach financial literacy.
Click here to read more about David Brown.
Click here to watch an interview with David Brown at Berkeley College's 2021 Commencement. 
Berkeley College celebrates its 90th anniversary in 2021. The theme commemorating this milestone is "Empowering Lives for 90 Years!" Visit the 90th Anniversary webpage for more information.
About Berkeley College

Berkeley College, founded in 1931, is a career-focused institution accredited by the Middle States Commission on Higher Education that offers students Master's, Bachelor's, and Associate's degree and Certificate programs in more than 20 career fields. The College also offers continuing education programs to enhance career credentials.
Berkeley College has campuses in Midtown Manhattan, NY, and in Newark, Paramus, Woodbridge, and Woodland Park, NJ, with more than 4,900 students enrolled. In addition, Berkeley College Online® serves a global population. U.S. News & World Report has named Berkeley College among the Best Colleges for Online Bachelor's Programs and among the Best Online Bachelor's Programs for Veterans, for eight consecutive years. The website address is www.BerkeleyCollege.edu.
The mission of Berkeley College is to empower students to achieve lifelong success in dynamic careers.