Berkeley College Legal Studies Faculty Encourage New York Businesses to Continually Evaluate DEI Policies

FOR IMMEDIATE RELEASE
Thursday, March 31, 2022
BERKELEY COLLEGE LEGAL STUDIES FACULTY ENCOURAGE NEW YORK BUSINESSES TO CONTINUALLY EVALUATE POLICIES
AND INFUSE DEI INTO EVERY ASPECT OF THEIR ORGANIZATIONS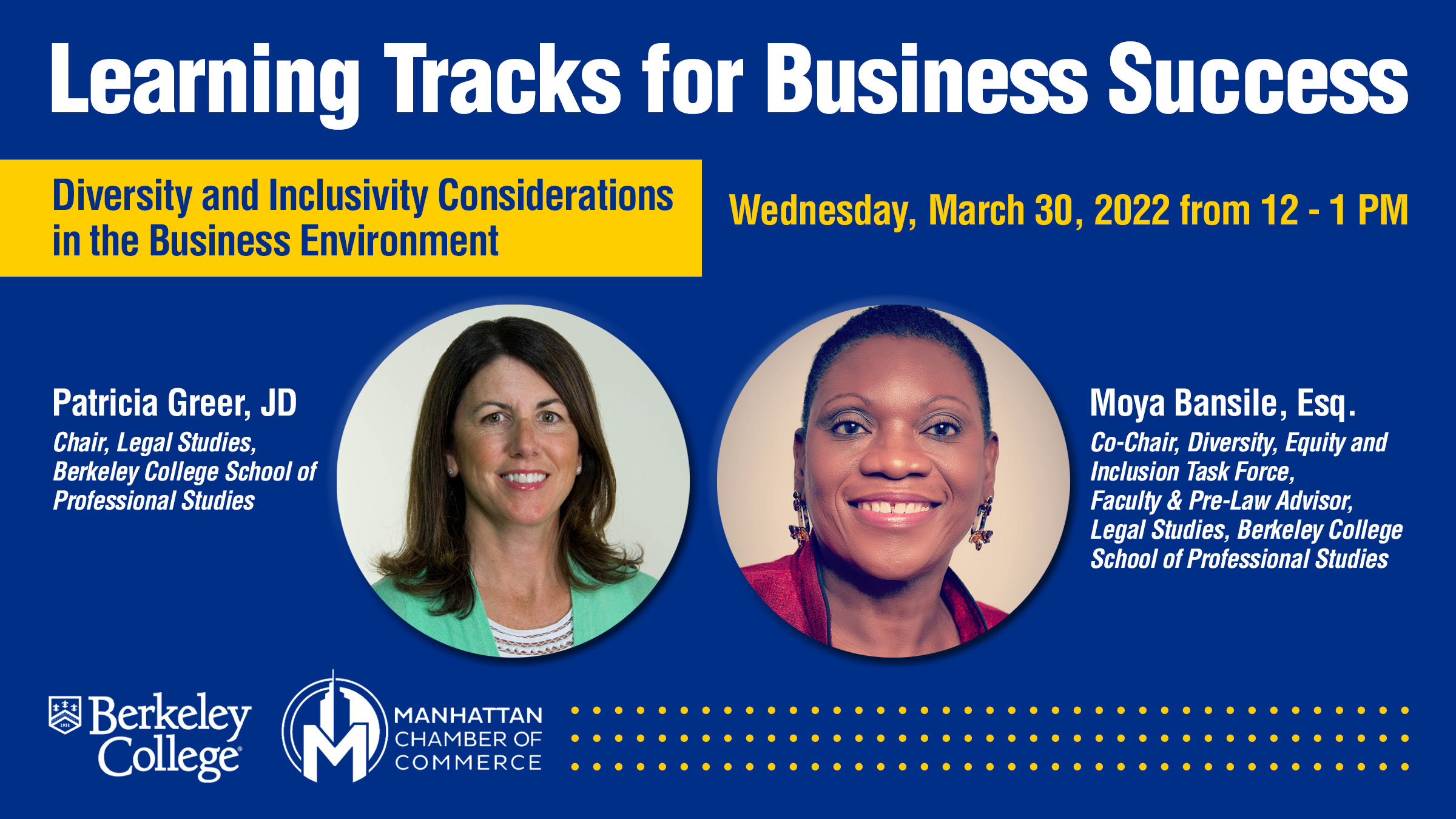 Share the News: @BerkeleyCollege @ManhattanCofC #NewsBerkeley  


Berkeley College Legal Studies faculty encouraged New York businesses to continually evaluate their policies and procedures related to workplace diversity, inclusivity and accessibility, during a webinar on Wednesday, March 30, 2022. "Diversity and Inclusivity Considerations in the Business Environment" was part of the Manhattan Chamber of Commerce Learning Tracks for Business Success webinar series, to assist businesses during New York City's economic recovery. 
"Diversity is not just a static concept," said Patricia Greer, JD, Chair, Legal Studies, Berkeley College School of Professional Studies. She encouraged small businesses to consider a climate survey to determine where they currently stand on diversity, equity and inclusion (DEI). 
Moya Bansile, Esq., Professor, Legal Studies and Co-Chair of the Berkeley College Diversity, Equity and Inclusion Advisory Committee, spoke about the importance of listening to diverse voices in the organization. 
"Make space for employee voices," Bansile said. "They will help you identify some blind spots you can address in your policies." 
Likewise, Bansile advised businesses to learn from interactions with their clients or customers in order to build a culturally sensitive, knowledge-based environment. 
The speakers shared Berkeley College's DEI initiatives, which include the formation of a Diversity, Equity and Inclusion Advisory Committee and the observance of Juneteenth as an official College holiday. The College offers a for-credit Diversity, Equity and Inclusion Certificate as part of its Continuing Education initiatives, for professionals seeking to develop diverse teams and foster an inclusive culture. 
"It's very important to have follow-through. Don't just announce an initiative. Employees and clients love to see results," Bansile said. "Infuse DEI into every aspect of your organization, and you will be well on your way to being successful in this DEI space." 
Learn More: Chamber members may opt-in to engage with any of the Learning Tracks here: http://eepurl.com/c8ZhUT 
About the Manhattan Chamber of Commerce 
The Manhattan Chamber of Commerce is the convener, voice and advocate of the 100,000+ businesses across the borough of Manhattan, which is New York's economic center. 
The Chamber is focused on advancing the economic vitality of our region by building a strong and thriving climate for the broad business community, including small businesses, startups and larger companies. 
While there are significant advantages to doing business in New York City, we provide meaningful solutions to overcome the biggest challenges facing businesses here. Since 1920, the Chamber's mission has been to empower its members to thrive. 
Throughout the COVID-19 pandemic, the Chamber's nonprofit foundation has had eight staff members providing outreach and technical assistance to local businesses throughout Manhattan.  
About Berkeley College
Berkeley College, founded in 1931, is a career-focused institution accredited by the Middle States Commission on Higher Education that offers students Master's, Bachelor's, and Associate's degree and Certificate programs in more than 20 career fields. The College also offers continuing education programs to enhance career credentials.
Berkeley College has campuses in Midtown Manhattan, NY, and in Newark, Paramus, Woodbridge and Woodland Park, NJ, with more than 4,000 students enrolled. In addition, Berkeley College Online® serves a global population. U.S. News & World Report has named Berkeley College among the Best Colleges for Online Bachelor's Programs and among the Best Online Bachelor's Programs for Veterans, for nine consecutive years. U.S. News & World Report named Berkeley College (NJ) one of the Best Regional Colleges in the North in its 2022 edition of the Best Colleges Survey.  In 2021 Berkeley College (NJ) was also recognized for the first time as a Top Performer on Social Mobility among colleges in the region. The website address is http://www.BerkeleyCollege.edu.