Berkeley College Celebrates Amazing Moms in Recognition of Mother's Day 2020

FOR IMMEDIATE RELEASE
Thursday, May 7, 2020
BERKELEY COLLEGE CELEBRATES AMAZING MOMS IN RECOGNITION OF MOTHER'S DAY 2020
 
These Dynamic Women Follow their Passions and Thrive



Photo Caption: Chassity Jackson of Destin, FL (left), entrepreneur, veteran, and recent graduate of Berkeley College, with her two sons and an employee of Sea World in San Antonio, TX, on holiday celebrating her older son's graduation from Basic Training in the U.S. Air Force.
In recognition of Mother's Day 2020, Berkeley College graduates and students reflect on what it means to be a mom and how they manage multiple priorities, such as caring for their children and homeschooling, advancing their education, making time for their studies, and moving up the career ladder. Here are their words and inspiring stories.
Chassity Jackson – U.S. Air Force veteran and fashion entrepreneur, discusses raising two sons and how her oldest is following in her footsteps.
Berkeley College graduate, veteran and designer with a passion for fashion, Chassity Jackson, of Destin, FL, is also a mom of two – one who is learning at home and the other in the U.S. Air Force. Staying active as a student while trying to manage life as a parent can be very daunting, said Jackson. "It seemed as though things were being thrown at me in every direction," she said. "There are times where I felt as though I wanted to give up. Nevertheless, through prayer and having a strong support system, I was able to realign with my goals so that I could focus on finishing the semester strong. I leveraged the quarantine time to reflect in areas where I felt that I had fallen short ... whether it be as a student, in my eating habits, physical workout regimen, or as a mom.  My youngest son, who is 11 years old, has been homeschooled since August 2019, and I decided to set up a daily task schedule to keep him on track with the pace of the online learning environment. His grades have improved dramatically!"
Jackson reports that she has been able to implement "bite-sized" workout routines while her son focuses on school reading and written assignments during the day. Setting up his daily schedule inspired her to become more aggressive with her own coursework. While he slept, she would be awake into the late night, working on at least one class assignment. That routine became her battle rhythm for remaining active as a student and managing as a parent.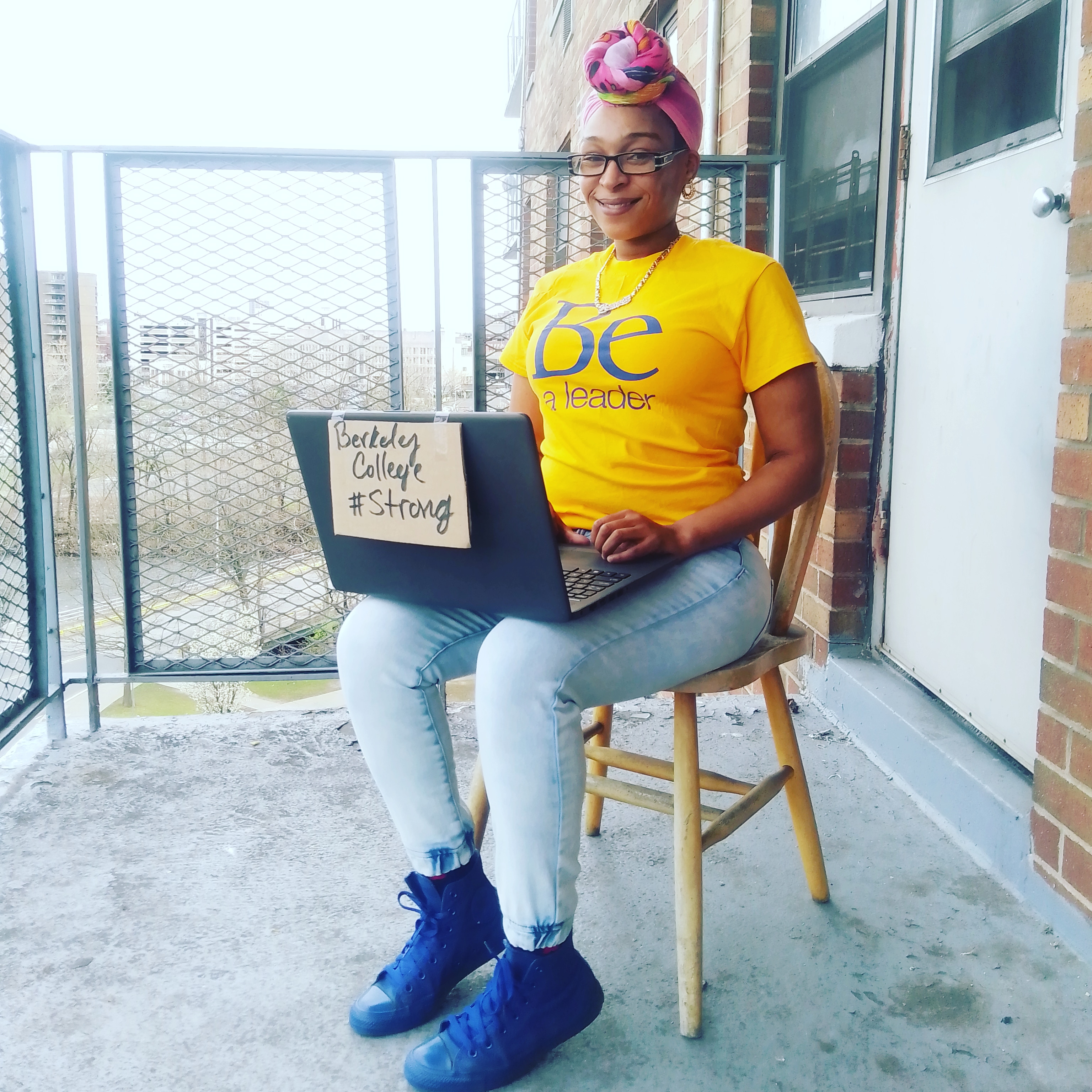 Magnolia Davis – Only 34 years old, Davis has volunteered in the juvenile justice system in her city for 20 years and fulfills a lifelong dream of a college education (with honors) while homeschooling her teenage son.
A long-time volunteer who has worked with youth for New Jersey Courts Passaic Vicinage, graduating Berkeley College student Magnolia Davis of Paterson, NJ, age 34, is an expectant mom and mother of a 14-year-old son, who himself will graduate from junior high school in June. As students together, Davis and her son formed a united front to make virtual education adjustments. Her routine at home would be to do her own school-work in the early morning, make breakfast, then engage with her son to focus on his responsibilities and work for school. "You have to stick to a routine. It's crucial," Davis said.
Determined to complete her course requirements to graduate from Berkeley College at the end of the winter semester, Davis managed a large course load of 18 credits, and continued to serve the community as an intake volunteer for juvenile probation prior to the COVID-19 pandemic outbreak. She is a recent inductee to Phi Theta Kappa and the National Society of Leadership and Success, and had been involved with extracurricular activities on campus, consistently recognized on the Dean's or President's Lists because of her 3.68 GPA.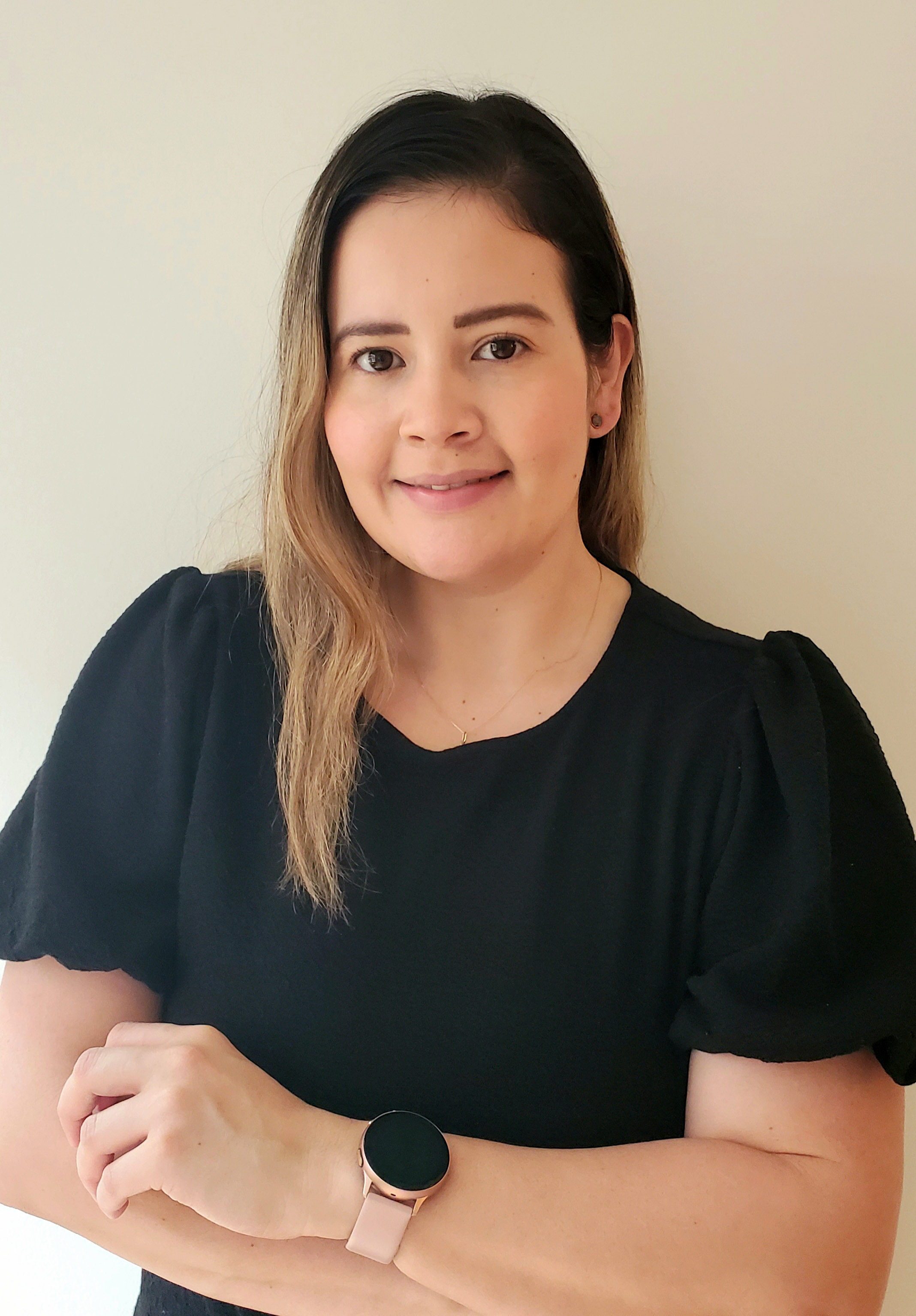 Paola Monroy – As she completes her Bachelor's degree, Monroy landed a virtual job at the cusp of the COVID-19 stay-at-home order and is able to launch a career in Marketing Communications while raising her two-year-old daughter.
Paola Monroy of Englewood, NJ, found it easiest to manage pursuing a college education and raise her 2-year-old daughter by working remotely and taking a combination of online and on-site courses at Berkeley College. A virtual internship as a Communication Specialist for the Englewood Chamber of Commerce worked out well when Monroy started in January, prior to the pandemic and shelter-in-place order. The Chamber President agreed to conduct the interview over the phone, and Monroy explained her situation, being open and honest. "I'm looking for a new job," she said. "I'm going to school. I have a daughter. I have so much going on, but I also want to do my internship." 
Monroy is navigating her career full steam ahead. She is completing her last semester at Berkeley College while sharing parenting duties of her 2-year-old daughter Amelia, with her husband Jason. In early March, she landed a position as a market analyst of lubricant products for a French oil and energy firm. "I'm very happy to complete my Bachelor's degree in Marketing Communications," Monroy said. "It is a big, big accomplishment to be a full-time mom and full-time employee and a full-time student. 
Acknowledging how the home environment is different for adult students, especially those with young children, who never stayed at home, and now are trying to complete their studies, care for their children and manage their school assignments, Monroy advised, "To those parents, I say, do your best – do not look for perfection."
About Berkeley College
Berkeley College, founded in 1931, is a career-focused institution accredited by the Middle States Commission on Higher Education that offers students Master's, Bachelor's, and Associate's degree and Certificate programs in more than 20 career fields. The College has campuses in Newark, Paramus, Woodbridge and Woodland Park, NJ, as well as in Midtown Manhattan and White Plains, NY, with more than 5,700 students enrolled. In addition, Berkeley College Online® serves a global population. U.S. News & World Report has named Berkeley College among the Best Colleges for Online Bachelor's Programs and among the Best Online Bachelor's Programs for Veterans, for seven consecutive years. The website address is www.BerkeleyCollege.edu
The mission of Berkeley College is to empower students to achieve lifelong success in dynamic careers.