New York Lt. Governor Opens Dialogue at Berkeley College Virtual Women's Forum with City & State NY

FOR IMMEDIATE RELEASE
Friday, October 9, 2020
 NEW YORK LT. GOV. OPENS DIALOGUE AT BERKELEY COLLEGE VIRTUAL FORUM WITH CITY & STATE NY


Virtual Forum Projects Voices of Women in Government and All Sectors as Change Leaders Recalibrating the Future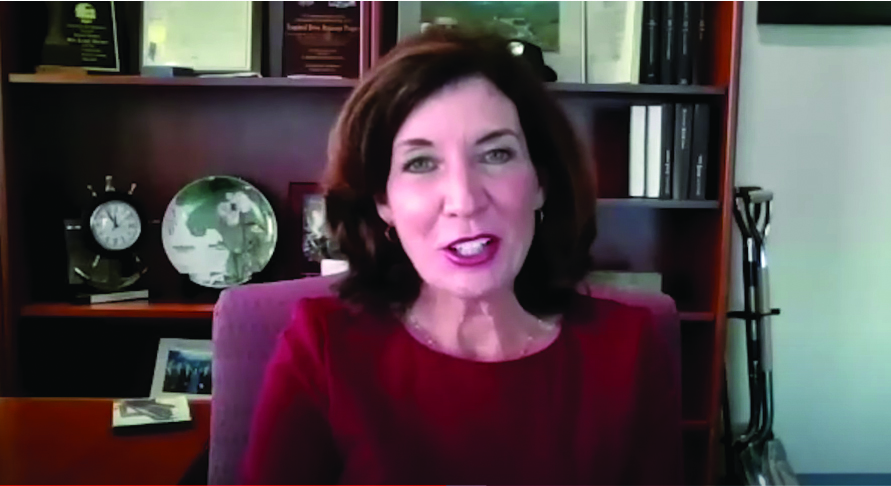 "No one can dispute the fact that women were on the front lines of battling this pandemic ... I think this is an opportunity to step back and acknowledge the incredible contributions and the way women powered through this and just kept going. It shows their resiliency."
– Lt. Governor Kathy Hochul, New York




Share the News:  @BerkeleyCollege @CityAndStateNY #WE2020

Change Leaders: Recalibrating the Future, a virtual forum hosted by Berkeley College in partnership with City & State New York in celebration of Women Entrepreneurship 2020, brought more than 400 participants together virtually to share women's points of views from government and all sectors of business on October 7, 2020. This is the sixth consecutive year Berkeley College has hosted the event.
The daylong event included Lt. Governor Kathy Hochul, New York (above, center), as the opening keynote speaker. "No one can dispute the fact that women were on the front lines of battling this pandemic ... I think this is an opportunity to step back and acknowledge the incredible contributions and the way women powered through this and just kept going. It shows their resiliency." said Hochul.
The forum's discussions illuminated education, workforce development, challenges women face in their work and as parents, and social inequality issues through the eyes of other women leaders in government and business, as well as women at the helm of nonprofits. Later in her remarks, Hochul said, "There cannot be a beneficial future for women in the workforce if we don't tackle this healthcare crisis, but also the childcare crisis right now. They go together."
"Elevating the voices of women in industry, government and media on key issues is so valuable and important for each of us, especially for our leaders of tomorrow," said Berkeley College President Michael J. Smith.
"Higher education can be the key to unlocking the future, but because of the pandemic, you need a game plan," Hochul said during a question and answer segment with Angela Harrington, Vice President, Communications and External Relations, and founder of Women's Entrepreneurship Week at Berkeley College.
According to a report by the Partnership for New York City, a third of New York City's 230,000 small businesses may not survive this crisis. "Women and minority-owned businesses have been disproportionately impacted by the crisis. We must seize this moment to reconcile the disparities," said Harrington.
Theme of Collaboration Dominates Discussions
During the Government Leaders Roundtable titled "Empowering Business Beyond the Reopening," moderator Heather Briccetti, Esq., Chief Executive Officer and President, The Business Council of New York State (above, third from right), asked panelists how much system inequities existed compared with those in government. Helen Rosenthal, New York City Councilmember, Committee on Women and Gender Equity (above, third from left), acknowledged that all Minority and Women-owned Business Enterprises (MWBEs) and small businesses are hurting. Rosenthal, a resident of the upper West Side, stressed paying attention to each small business, as they are different, and questioned if the Comptroller's Office was able to connect the dots. "I encourage the Comptroller's Office and SBA to work together," Rosenthal said. "We're going to have good success when we are all in it together."
Wendy Garcia, Chief Diversity Officer, New York City Comptroller's Office (above, far left), challenged the appearance in news that government does not work together. "Government is always catching up with each piece of implementation so all can have access … We work every day as women, and women of color, as government, and bring you the resources … Our job is to build wealth in your life," Garcia said, and noted that local worker cooperatives were also helping local businesses. Through intense work, local worker cooperatives saved thousands of jobs.
Man-Li Kuo Lin, Economic Development Specialist, U.S. Small Business Administration (above, second from left), concurred. "We understand and we are here and want to help you. We are women; we can work together," Lin said. Garcia suggested those looking for prime and subcontracting work in New York City think through what they want to get out of it because the process of getting MWBE-certified takes time and effort. One has to apply and be eligible. Garcia noted that there are resources that can help, including providing a market analysis and some federal, state and city contracts have MWBE goals.
Representing the New York City Department of Small Business Services, Division of Economic and Financial Opportunity, Dynishal Gross (above, second from right), told the audience that MWBEs are excellent businesses that become discouraged when overlooked. "This is not a remedial program," Gross said. "You want to be a part, and the City is a partner in this market."
Additional Panels, Business Roundtable, Corporate Learning and Career Conversations
Additional elements in the forum included panel discussions titled "Change Leaders: A Conversation on Social Activism – Then and NOW," and "Reclaiming New York City." The afternoon sessions included Career Workshops and a Corporate Learning Partners Roundtable. Joyce Chang, Chair, Global Research, J.P. Morgan (above, far right), was the closing keynote speaker.

Welcome remarks were presented by Michael J. Smith, Berkeley College President (above, center); Opening remarks by Angela Harrington, Vice President, Berkeley College Communications and External Relations (above, left); and Naomi Dunston, Berkeley College student, Class of 2021 (above, right). A native Brooklynite of southern American and Caribbean lineage, this was Dunston's third time attending a Women Entrepreneurship event hosted by Berkeley College, and first time as presenter. "I grew up seeing my parents dream of creating a better life for themselves than what their parents provided, and that's not to say they didn't appreciate the life they were handed. It's to say that they had an opportunity to dream bigger and create something together, for themselves. That's how I got here."
In closing the forum, Chang said that a crisis is a time to set new precedents and that there is no room for complacency. Chang also acknowledged the resiliency of young people and cited this time as being a watershed moment for the percentage of women who hold seats in the House of Representatives in the U.S. Congress (24%.) "There is no room for complacency," said Chang.
To stay abreast of additional news about Women's Entrepreneurship at Berkeley College click here.
About Berkeley College
Berkeley College, founded in 1931, is a career-focused institution accredited by the Middle States Commission on Higher Education that offers students Master's, Bachelor's, and Associate's degree and Certificate programs in more than 20 career fields. The College also offers continuing education programs to enhance career credentials.
Berkeley College has campuses in Midtown Manhattan and White Plains, NY, as well as in Newark, Paramus, Woodbridge and Woodland Park, NJ, with more than 4,900 students enrolled. In addition, Berkeley College Online® serves a global population. U.S. News & World Report has named Berkeley College among the Best Colleges for Online Bachelor's Programs and among the Best Online Bachelor's Programs for Veterans, for seven consecutive years. The website address is www.BerkeleyCollege.edu
The mission of Berkeley College is to empower students to achieve lifelong success in dynamic careers.