Newsline Special Edition: Berkeley College Commemorates a Year of Resilience

FOR IMMEDIATE RELEASE
Thursday, March 18, 2021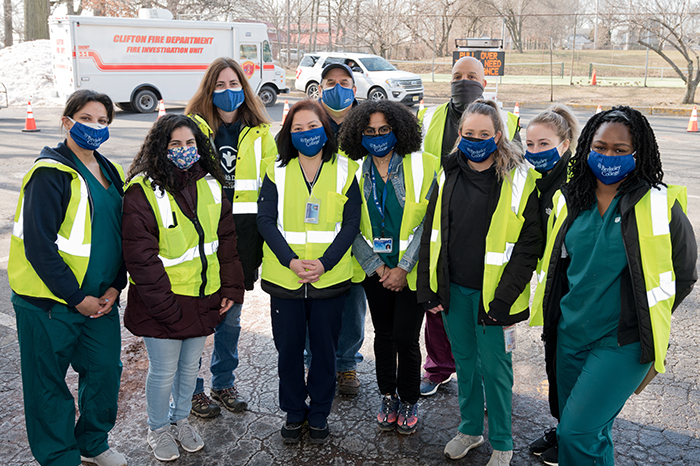 Berkeley College School of Health Studies Students and Faculty
Volunteer at Drive-Thru COVID Vaccination Site
to Help Move Communities Toward Recovery
In Clifton, NJ, Berkeley College students and faculty are serving as frontline volunteers, administering COVID-19 vaccines to thousands of area residents. Each week, teams of students in the Berkeley College Licensed Practical Nurse (LPN) to Bachelor of Science in Nursing (B.S.N.) program administer vaccinations under the supervision of nursing faculty from the School of Health Studies at a drive-thru site located at Clifton High School.

Two Berkeley College Professors

Share Lessons Learned
During the Pandemic



Berkeley College professors, Byron K. Hargrove, PhD and Luisa Ferreira, PhD,

share their teaching experiences and the ways they adapted and supported students.


What to Know About the
Post-Traumatic Effects
of COVID-19


Director of Disability Services, Sharon McLennon-Wier, PhD, discusses the
impact of COVID-19 on brain functions.
Berkeley Grad Wesley Rebisz Leads
Empire Outlets to a New Kind of Future
Wesley Rebisz, Berkeley College Class of 2008, is General Manager of Empire Outlets, based in
Staten Island, NY. He oversees a 1-million-square-foot shopping center located along the borough's
North Shore. In this interview, Rebisz discusses how he maintains an optimistic outlook and
Empire Outlet's role in the COVID recovery.

Berkeley College reserves the right to add, discontinue, or modify its programs and policies at any time. Modifications subsequent to the original publication of this document may not be reflected here. For up-to-date and detailed information, please visit BerkeleyCollege.edu and view our catalogs at BerkeleyCollege.edu/Publications.
Copyright © 2021 Berkeley College