Commencement 2023: Angeline Gil, Student Speaker

Angeline Gil
Student Speaker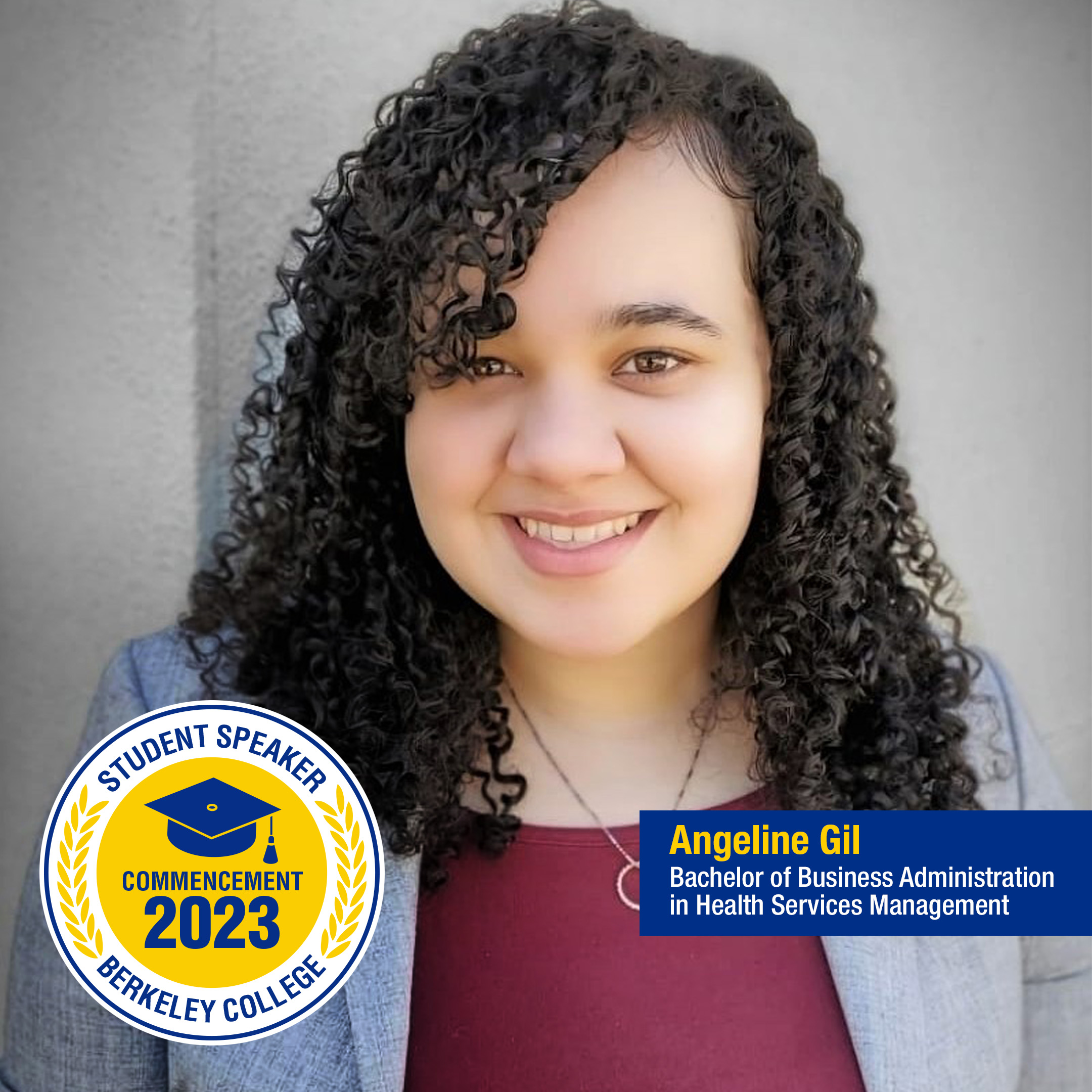 Angeline Gil is an Honors Scholar, graduating with a Bachelor of Business Administration in Health Services Management. She is currently enrolled in the Master of Business Administration in Management program at Berkeley College. Angeline is a resident of Paterson, NJ. 
As a first-generation graduate and daughter of immigrant parents from the Dominican Republic, Angeline credits her passion for academia to the example her parents provided, and the sacrifices they made in pursuit of education. 
During her time at Berkeley College, Angeline served on the Executive Board of the Berkeley College chapter of the National Society of Leadership and Success and was active in the Volunteer Leadership Team, where she helped organize service opportunities. She also served as a student representative of the Berkeley College Student Success Committee and the Community Service Week Committee. Angeline was inducted into the Sigma Beta Delta National Honor Society, which honors high-achieving students. 
Angeline chose to study Health Services Management to combine her mutual interests in healthcare and business. In 2021, she received the Rising Star Award from the New Jersey Business & Industry Association, which honors New Jersey college students who exhibit business leadership potential. 
Angeline said the COVID-19 pandemic inspired her to seek a career in public health, where she would like to hold a leadership position at a New Jersey hospital. She served as an intern at the St. Joseph's Health Community Outreach Department in Paterson, NJ, where she engaged with residents in need of health screenings, early intervention, and preventative care. 
Angeline's goal is to make an impact on the healthcare system in the United States by addressing health disparities and barriers that affect vulnerable populations. She received the Academic All-Star and Best Virtual Presentation awards for her Honors Program thesis, "The Minority Report: Investigating the Epidemic of Race-Based Medicine in the U.S. Healthcare System." 
Angeline's advice to Berkeley College graduates is to view life as a continuous search for knowledge and development: "Reflect on the journey that has gotten you to graduation and look to the road ahead of you with confidence. Learning does not end at graduation – it continues as we grow older and move on to new stages of life."