Rebecca Aguilera's Future Shines Bright at Berkeley College Commencement 2018
Tonya Johnson
17 May 2018
Class of 2018 Berkeley College graduate Rebecca Aguilera has got plenty to celebrate these days. For starters, when she walked across the commencement stage last Friday, May 11 at the Prudential Center in Newark, NJ, she was the first in her family to receive a college degree. She's always strived to be a good role model, but it was the "amazing work ethic" that her parents instilled in her, that motivated Rebecca to pursue a Bachelor's degree in Marketing Communications.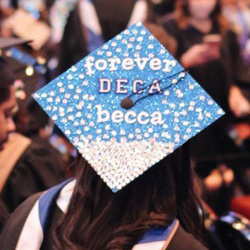 She came to Berkeley College all the way from Maumuelle, Arkansas on a full-ride DECA Scholarship, and it was the small classroom sizes and a leadership opportunity to revamp the school's previous DECA chapter that initially drew her in. What she enjoyed most about the classroom experience at Berkeley College was learning from faculty who have run their own firms or have experience with leading organizations that they are always willing to share with their students. She enrolled at Berkeley College in 2015 and attended classes at the White Plains campus, New York City campus, and Berkeley College Online®.
"One of the most unique qualities I observed in Ms. Aguilera, was her ability to see a broader analytical perspective of the various projects she was involved with. I have always been impressed with her keen interest in gaining the utmost in college education," said Dr. Martin Shapiro.
As President of the Berkeley College Student Government Association (SGA) for two years, Rebecca said that one of her most memorable SGA opportunities was when she was selected to speak on behalf of the entire SGA and stand before other dignitaries during the inauguration of President Michael Smith.
Rebecca also became a Resident Assistant shortly after her arrival to the White Plains residence hall known as Cottage Place, and later rose to Senior Resident Assistant during the 2017-2018 school year. She revived the Emerging Leaders Program/FYRE Program – First Year Resident Experience, to get new residents acclimated to the Berkeley College community, the City of White Plains, campus security, leadership opportunities, and much more.
The week after graduation, Rebecca started a new full-time job in the Public Relations Department of Nicholas & Lence Communications - where she interned during her time at Berkeley, as Executive Assistant to the Chief Executive Office and the Senior Vice President.
"There's an endless amount of opportunities you can have in the Marketing Communications field. I loved my program and I would not have chosen any other one," she said.
Her parents always told her to "pick the challenging road and never follow the crowd." That's something that Rebecca thinks about every day. In fact, Dr. M. Mitchell Serels, who teaches numerous elective courses at Berkeley College, was one of the most inspiring and challenging professors she had, because "what he teaches in the classroom can be applied to multiple majors," she explained.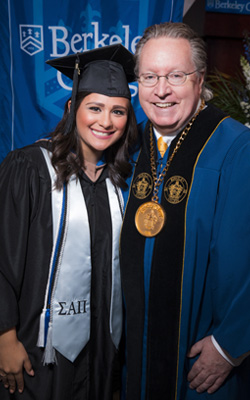 "One of the great rewards as a professor is challenging our students to think. The greatest reward is when students like Rebecca challenge the professor to think," Mitchell said.
"Berkeley College prepares students for professional and personal success. I wanted to be in a program that would help me pursue my true love for marketing, and I didn't want to settle for anything else. It was important for me to go to a school that would support me all the way. Thanks to all of the administrators, faculty, staff, professors, and everyone at Berkeley College from the Communications Department to the people who clean our White Plains campus. I wouldn't be who I am without Berkeley College and everyone that's a part of it!"
Working and living in New York City is just the beginning of Rebecca's alumnae journey. Her future shines even brighter as she plans for her wedding day in 2019!
"Rebecca embraced Berkeley from the moment she arrived. She threw her heart and soul into our institution and we have benefited greatly because she spent this important time in her development with us," said President Michael Smith. "We all look forward to hearing of her great personal and professional successes as she continues on her path to increasing leadership. We are counting on it."
The views and/or opinions in this article are those of the individuals interviewed. The academic achievements and/or employment outcomes described in this article are specific to each individual, and are not a guarantee of similar results for past or current students. For up-to-date and detailed information, please visit BerkeleyCollege.edu and view our catalogs at BerkeleyCollege.edu/publications. 
Related Posts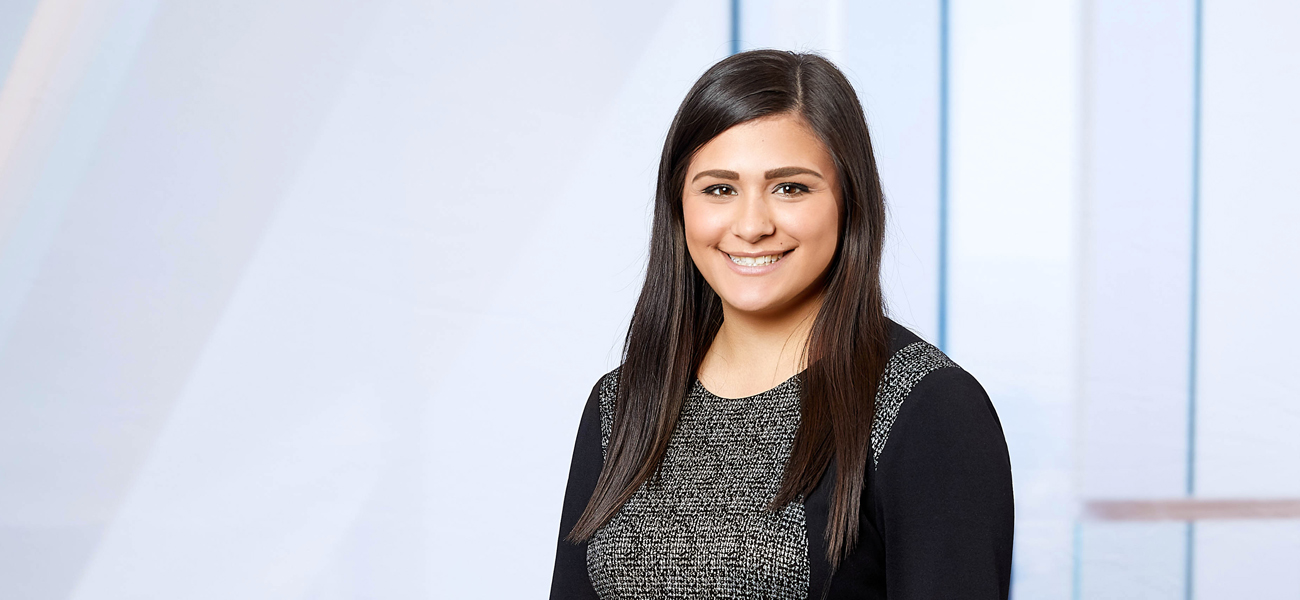 Marketing
White Plains
NYC Midtown
Alumni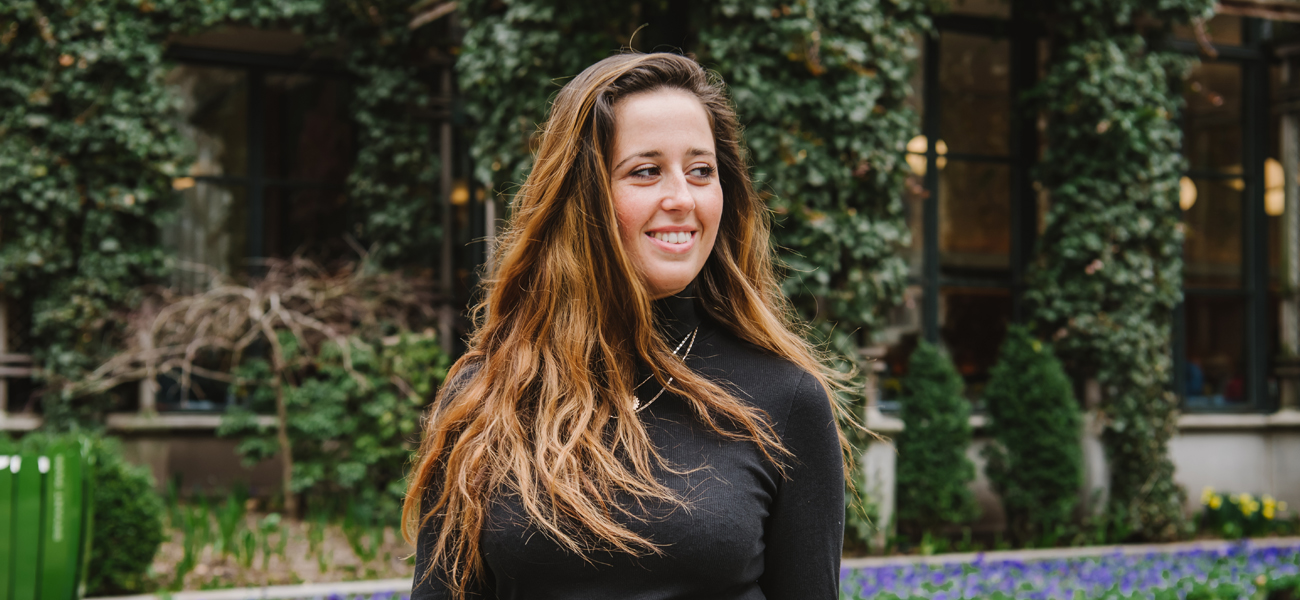 NYC Midtown
Students
Marketing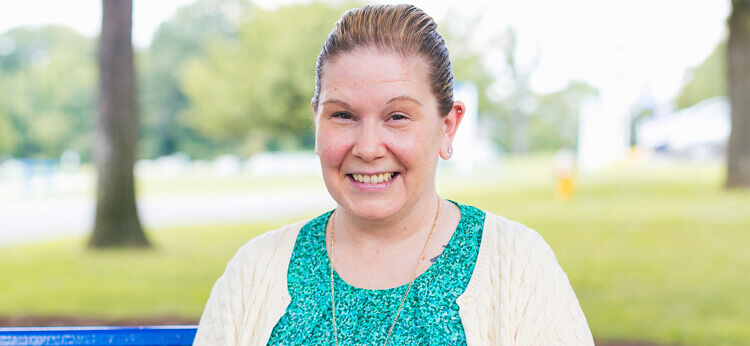 Health Services
Marketing