CBS 2 Sunday Morning Highlights Berkeley College Career Clothing Boutique
Tonya Johnson
06 February 2019
Earl Brown, M.B.A., Campus Operating Officer at the Berkeley College Newark Campus, and student Nadirah Rhodes, were featured on CBS 2 News – CBS New York on February 24. They spoke with Emmy Award winning news anchor reporters, Cindy Hsu and Kristine Johnson, about the Career Clothing Boutique that launched in Newark, September 2018.
The Career Clothing Boutique is an initiative of the school's Career Services Department, to better prepare students for successful interviews and career opportunities.
"Initiatives like the Berkeley College Career Clothing Boutique in Newark, NJ are a great example of how the College is providing amazing resources to help our students become successful," said Earl. "The boutique provides professional clothing, accessories, and additional information for students to pursue employment opportunities, or attend networking and professional events. Students can also use the boutique to build their professional closet, and plan for classroom experiences - like project presentations," he added.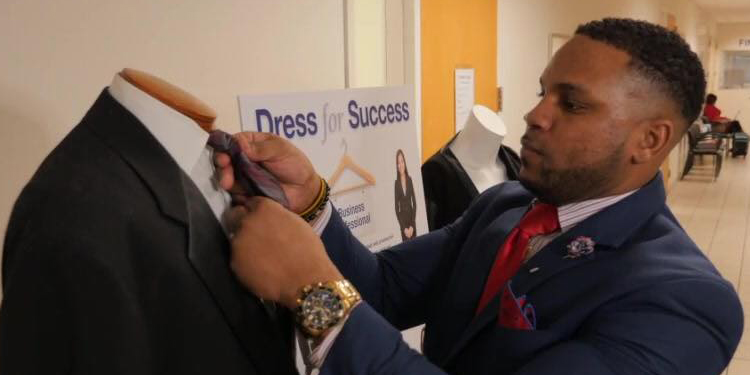 As a hometown Newark native, Nadirah attended West Side High School and graduated in 2011. She is currently pursuing a Bachelor's degree in Health Services Management, and explained the powerful impact that Earl Brown has had on her life during her time at Berkeley.

"Through motivational conversations with Earl, I've learned to let go of other people's perceptions of me, and build up my own," she said.
Creating an inviting experience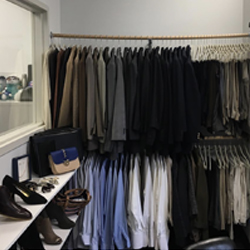 Prior to the boutique's grand opening, Earl asked the former retail employee to assist him with the space set up. In approximately two weeks, Nadirah was able to periodically carry clothing to the new display room and start placing the items on racks. She assessed the enormous amount of donations from staff associates and local business partners; then envisioned and designed a layout that would be easier for student shoppers to navigate their selections.
She personally picked out a blouse from the boutique collection, and plans to wear it throughout the job interviewing process. As an Honors student, Nadirah is a member of the National Society of Leadership and Success, and was recently appointed as a parliamentarian officer for the Newark Student Government Association. "The career counselor familiarizes me with the types of job opportunities related to an internship in my major, and I'm grateful for that," she said.
A major career choice
Professor Chris W. Grevesen, Ph.D., Management, Larry L. Luing School of Business®, who teaches a career development class at Berkeley, helped Nadirah understand clearly what her major could lead to in the future. Health Services Management careers require organized, strategic planning skills. "It's a leadership role, and time management is very important," she said. Nadirah successfully styled a group of female students as they prepared to interview for their current internship placements.
Confidence is key
"When you look good, you feel good," said Earl. "Students have been truly appreciative of this resource center, and traffic is increasing. The best part about providing this center for our students is that it's a way for us to help boost their happiness, confidence, motivation, and aspirations. This confidence translates not only to employment and professional development, but a new found confidence translated into their academic success. I've personally witnessed a student use the boutique to find professional clothing and guidance; then land a job," he said.
The CBS 2 News anchors were impressed by how well Berkeley is preparing students for the job interviewing process and workplace environment through the Career Clothing Boutique. But Earl pointed out that "It's not just about giving them clothes for employment. It's about the overall development and improvement of our students."
Successful job candidates
When Business Administration student and author Khali Raymond first heard news about the Career Clothing Boutique coming to the Newark campus, he was pretty intrigued. Shortly after the grand opening, he went downstairs to check it out. "They had an amazing array of clothing - designer brands too," he said. "The best thing? All of it was FREE. I said to myself, 'why isn't everyone taking advantage of this?"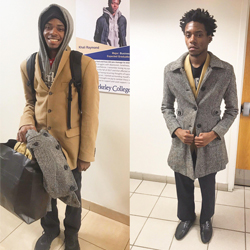 Khali didn't own much business attire because he couldn't afford it, and he really wasn't sure what type of clothing would suit him best. "The people in Career Services helped me picked some amazing looks. I kept coming back for more," he said. "I recently got a position at the All Stars Project of New Jersey through Berkeley's Federal Work Study Program.
As a former alumni with the project's Development School for Youth, Khali also volunteered with the All Stars, assisting with events, and has even performed in some of the talent shows. "To work there is an amazing feeling. I know that I am making a difference with the work that I do," he said. Khali wishes that more schools would provide this type of resource center, like Berkeley. "There are many selections of ties, suits, shoes, cardigans, pants - the list goes on."
Patient Care Technician student Nariah Ramos agrees that the first impression is always the most important. "I have received help from Career Services in the past for a job opportunity through a career fair that was held at the Newark Campus," she said. "I can't thank Berkeley enough, because it helped me get on my feet during that time. I highly recommend the service to other students who may need extra assistance."
Berkeley's boutique history
Career Services associates at the school's White Plains campus were the first to introduce the concept of creating a Berkeley College "Dress for Success" Clothing Boutique during the year of 2000 - as indicated by Ana Yee, Director of Alumni Career Services/Quality Control in a previous Berkeley Today story. In addition to the Newark boutique launch in September 2018, a ribbon-cutting ceremony for the boutique space, managed by Ashley Alba, Career Counselor at Berkeley College Online and Paramus, was held last year in February. Career Clothing Boutiques are also available for students at the campuses in New York City, and Woodland Park, NJ. Michael Russo, Campus Operating Officer at the Berkeley College Woodbridge Campus is in the process of transforming a modestly-sized clothing closet in Woodbridge, NJ to a full walk-in boutique where students can browse at their leisure. Brooklyn students currently have full access to the New York City boutique.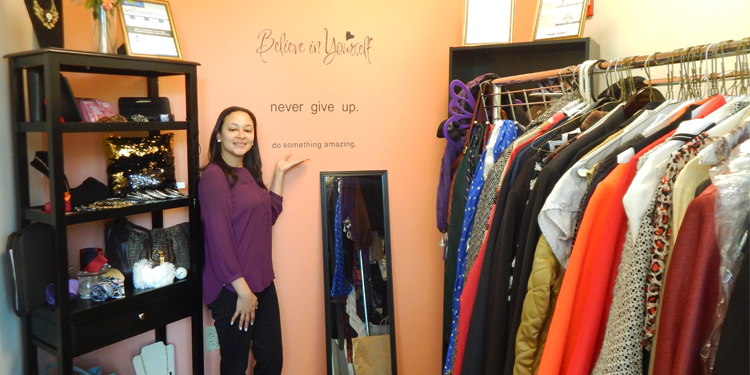 Student internships
Criminal Justice major Yanni Vrakas, who is a student in Paramus, NJ, anticipates Berkeley College Graduation 2019. "I want to be a paralegal because it will help me gain experience in order to reach a higher position in the field of law," he explained. "I've always liked criminal justice because I can help people, and make sure bad people get what they deserve. I've been passionate about it since I was a kid. The boutique is helpful in making me look presentable, because I majored in criminal justice, not fashion." He values the convenience of being able to select job interview clothing right on campus.
Yanni grew up in Bergenfield, NJ. He was attracted to the small-size classes at Berkeley College. He also received the Presidential Scholarship when he was applying to school. Yanni has been working as an intern for the Mullen Law Firm in Hoboken, NJ, since January 9. His job is to file and process discovery briefs, summarize cases, and do simple tasks to make a lawyer's job easier. "I like the internship," he said. "I feel that any experience developed will be in my favor, because a college degree looks good on the resume, but if you don't know what you're doing then you will not be hired."
During the interviewing process, he suggests that students rehearse a few talking points, and visit Career Services once or twice prior to the interview. "I also recommend that you inject your accomplishments into the 'why you would be good for this job" question," said Yanni. "Say what they want to hear. You are your own best advocate."
Career services
Career counseling for students at Berkeley College begins in the first semester with an orientation to the Career Services Department. A full-service department of 25 Career Services specialists is dedicated to assisting students in identifying and pursuing job and internship opportunities, throughout their studies at Berkeley and beyond.
"What you learn at this school in these classes, actually happens in the internship - so pay attention and do the best you can," Nadirah advised. "If you're focused in class, once you get to the job setting, you'll knock it out of the park!" As an aspiring health services manager, Nadirah wants to improve the healthcare treatment of mothers and children. "Know your passion," she said. "Don't let anyone or anything deter you from what you want to be in life."
To learn more about the Berkeley College Career Clothing Boutique, watch the CBS 2 News segment, and visit Career Services.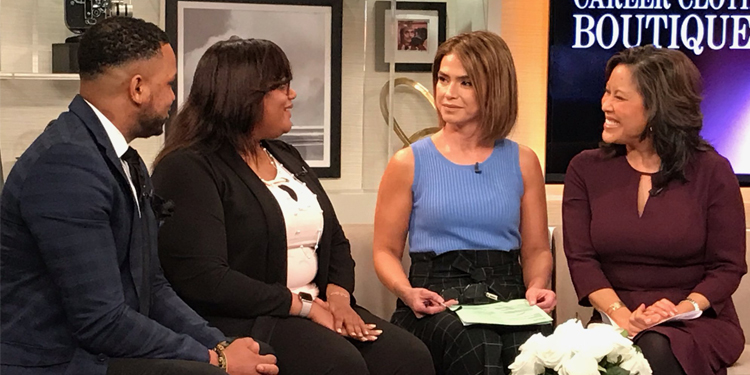 The views and/or opinions in this article are those of the individuals interviewed. The academic achievements and/or employment outcomes described in this article are specific to each individual, and are not a guarantee of similar results for past or current students. For up-to-date and detailed information, please visit BerkeleyCollege.edu and view our catalogs at BerkeleyCollege.edu/publications.