Berkeley Launches New Programs in Emerging Fields

FOR IMMEDIATE RELEASE
Friday, May 1, 2020
BERKELEY COLLEGE ANNOUNCES FIVE NEW PROGRAMS
Designed to Help Students Take Their Careers to the Next Level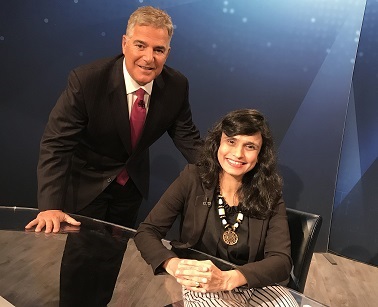 Photo Caption: Darshan Desai, PhD, Professor, Management, Berkeley College Larry L. Luing School of Business®, directs a new degree program in Business Data Science. Click here to learn more about Dr. Desai. Click here to watch Dr. Desai on "Think Tank with Steve Adubato" (pictured above). 
Berkeley College recently announced five new programs  – all geared toward preparing undergraduate students, adult learners and professionals in transition for careers in growth industries. 
"Berkeley College is proud to unveil five new industry-relevant degree programs in Business Data Science and National Security, and certificate programs in Interior Design, Paralegal Studies, and Police Studies" said Marsha A. Pollard, PhD, Berkeley College Provost. "These career-focused, practitioner-oriented programs are rigorous, and prepare our students for entrance into, or advancement in, emerging industries that require individuals who are educated and trained in interdisciplinary fields that cut across traditional academic boundaries."
The Berkeley College programs and their descriptions follow: 
Business Data Science 
The Bachelor of Science degree program in Business Data Science has concentrations in artificial intelligence or business analytics. This degree program blends technology, data science and artificial intelligence with mathematics, data visualization and analytics, while maintaining a foundational business core. The curriculum also focuses on ethics, science, creativity, social and communication skills. The program is available on-site and online. Click here to read more about the program. An information session will be held online on May 28, 2020, at 4 p.m.
National Security 
The career field of national security is changing rapidly. The growing need for trained, qualified professionals to address threats to safety spans both the public and private sectors. One of the few programs of its kind in the area, the Bachelor of Science degree program in National Security, is designed to prepare those professionals through a dynamic curriculum taught by experienced instructors. The program is available on-site and online. 
Paralegal Certificate 
The flexibility of this program accommodates varying interests, and can be completed in as little as six months. By combining practical knowledge from seasoned legal faculty with a rigorous academic component, the Paralegal Certificate program will help individuals gain the competitive advantage that they need to succeed in the legal job market. The program is available online only. 
Police Studies Certificate 
The Police Studies Certificate emphasizes the fundamental skills and knowledge in policing, including the history of policing, report writing and the importance of police-community relations. Students learn essential attitudes and personal qualities to increase their knowledge of police work in America. The program is available on-site and online. 
Interior Design Certificate 
The Interior Design Certificate program focuses on the creative and technical aspects of this exciting industry. Graduates are prepared with the necessary skills and practical knowledge to enter the industry in a range of roles. Students learn creative and technical skills from experienced professionals who share their firsthand knowledge. Graduates can pursue careers in creative positions, as residential or commercial interior designers, exhibit designers, designers in architectural firms, and more. The program is available on-site and online.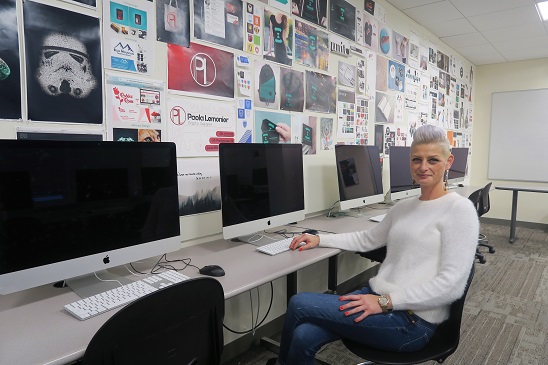 Photo Caption: Anna Rainko is a Berkeley College Interior Design student on her way to a successful career. Last year, she was recognized by The American Society of Interior Designers in a Tabletop Sculpture Competition. An Interior Design Certificate is among five new programs being offered by Berkeley College during its spring semester. 
About Berkeley College
Berkeley College, founded in 1931, is a career-focused institution accredited by the Middle States Commission on Higher Education that offers students Master's, Bachelor's, and Associate's degree and Certificate programs in more than 20 career fields. The College has campuses in Midtown Manhattan and White Plains, NY, as well as in Newark, Paramus, Woodbridge and Woodland Park, NJ, with more than 5,700 students enrolled. In addition, Berkeley College Online® serves a global population. U.S. News & World Report has named Berkeley College among the Best Colleges for Online Bachelor's Programs and among the Best Online Bachelor's Programs for Veterans, for seven consecutive years. The website address is www.BerkeleyCollege.edu.
The mission of Berkeley College is to empower students to achieve lifelong success in dynamic careers.