A Mother's Strength and Sacrifice
Sherif Marwan, Alumnus, Master of Business Administration (M.B.A.)
09 May 2021
My mother passed away and I want to tell you that she was my queen and was responsible for all I have achieved.
I was born and raised in Egypt. Growing up in a third world country, I went to government schools because we could not afford private ones. I come from a family where my parents never attended college and we had limited financial resources.
In 2002, my mother sold a gold ring and necklace that she had inherited, in order to help my father travel abroad for work. He traveled to Saudi Arabia and Dubai, but his income couldn't cover our family expenses at all. For the next ten years, my mother used up her small inheritance to cover all our family living and education expenses. She would say, "You can lose your money, your health, your partner, but you can't lose your education". This inspired me to prioritize and pursue more education.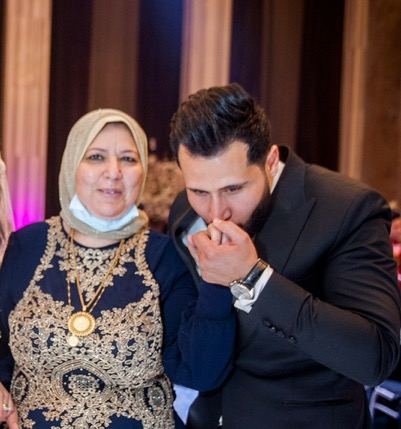 In 2004, my brother passed away and I was rejected from a medical school that I was really hoping to attend. I became very depressed, but my mother encouraged me to never give up. "It's not the end of the world and don't ever lose your passion, be successful wherever you are and whatever you do", she said.
I decided to switch gears and attend an Egyptian accounting college from which I graduated in 2008. Shortly after that, I started my professional career as a financial planner in Allianz, Egypt. I stayed there for two years and then I became a sales manager at Allianz Saudi Fransi in Saudi Arabia.
In 2013, I made the move to New York City where I could pursue my new passion for business. I started as a financial advisor at NY Life Insurance Company and within two years I became a senior partner who managed hundreds of advisors. I switched jobs a few more times and in 2018, I joined AXA Advisors as a Regional Vice President. While I was working in the financial sector I earned my Series 6, 7, 24, 63, 66, and my Life & Health Insurance licenses. Two years later, I started my Berkeley College M.B.A. in the winter of 2020. I graduated this spring, two semesters early.
My mother was diabetic, she had high-blood pressure, and had had a kidney transplant, but she was also a fighter and fought to the end. I graduated with my M.B.A. on April 17, 2021, and she passed away the very next day. On top of all her ailments, she had contracted COVID and fought her infection until I graduated. She would not give up until I had completed my M.B.A. I hope you understand how important she was to me, she was my backbone, and meant the world to me. Her love and words will always be my motivation. Love you ZIZI!!!
Thank you for your support.